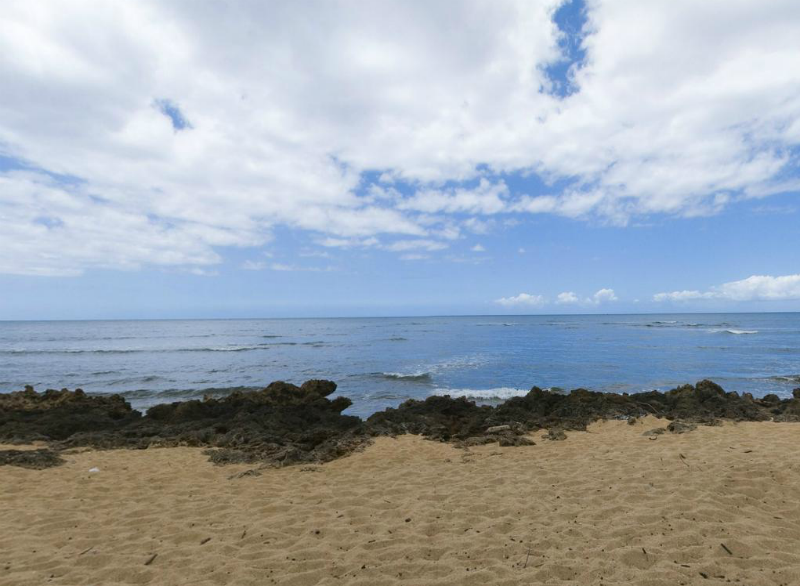 Kaiaka Bay Beach Park is a sprawling beach park located on the Kaiaka Point peninsula, in Oahu's North Shore. At 53 acres, it is one of the largest beach parks and camping grounds in Haleiwa. Away from any major thoroughfare, the tranquil park is a popular spot for picnics, playing ball games and other forms of relaxation.
Apart from the sprawling open spaces and the scenic views of the Waianae Mountains and the neighboring Haleiwa coastline, this park leaves a lot to be desired in terms of swimming and water activities. The name Kaiaka, which means "shadowy sea" in the Hawaiian language, perfectly describes the water condition in these parts which looks dark and murky.
Soil runoff from the nearby Paukauila and Kiki'i Streams, as well as the numerous sharp rocks at the water's edge, add to the poor swimming condition in the area. If any consolation, at the east end of the peninsula is a small sandy beach which can be used for a bit of dipping but with a lot of caution. The near-shore bottom can be hazardous for swimming because of sharp rocks.
Back on land, another interesting attraction in Kaiaka Bay Beach Park is a massive mushroom-shaped balancing stone which looks like a giant mushroom. The limestone formation is called Pohaku Lana'i which, according to a legend, floated ashore from the distant land of Kahiki.
At the northern end of the peninsula is a vast grassy lawn where there are a number of picnic tables. The designated camp sites are also located in this area. Permits are required to be able to camp here.
Save