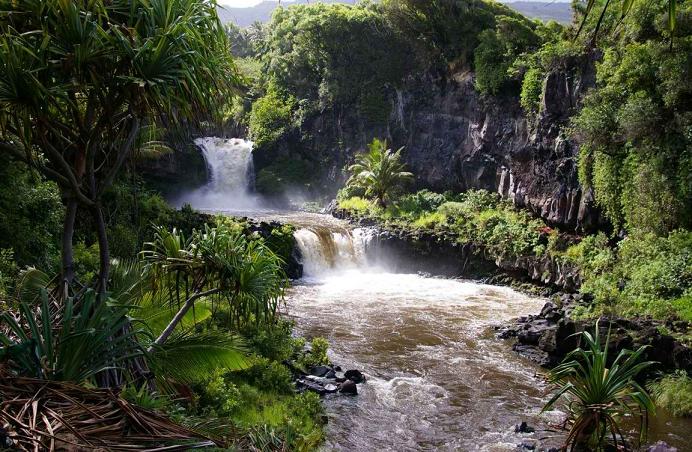 The Seven Sacred Pools, also known as Pools of Ohe'o, are a series of (far more than seven) breathtaking waterfalls and pools, beginning many miles up the mountain and cascading one after the other before flowing into the rugged Kipahulu coastline. Located at the Kīpahulu district of the Haleakala National Park and easily accessible via Highway 31, the seven sacred pools are the most popular attraction in East Maui.
The pools sit on the lush environment that is the Ohe'o Gulch and are fed by the Palikea and Pipiwai Streams. The most accessible pools are also the ones particularly well-suited for swimming and cliff-jumping.
Because of their popularity, the pools can get very crowded. If you want to enjoy the site without the maddening crowd, come early in the day.
There are signage prohibiting cliff-jumping, as well as, a bulletin board by the ranger station that displays clippings of newspaper articles about the numerous tragic accidents that have occurred in the pools over the years. Unfortunately, these do not deter some folks to take the plunge. If you decide to jump, do it at your own risk.
The fee for visiting the Haleakala National Park is only $10 per vehicle and is valid for the Ohe'o Pools, as well as the road that leads to the summit of Haleakala. Facilities include facilities at ranger station, bathrooms, expanded camping facilities and newly constructed large paved parking lots.
Access to pools is closed off during wet weather. Wet rocks can get very slippery so be sure to wear footwear with good grip.
The Seven Sacred Pools are about 15 minutes past Hana town, near mile marker 42 on the Hana Highway (Road to Hana) after it turns into Highway 31.