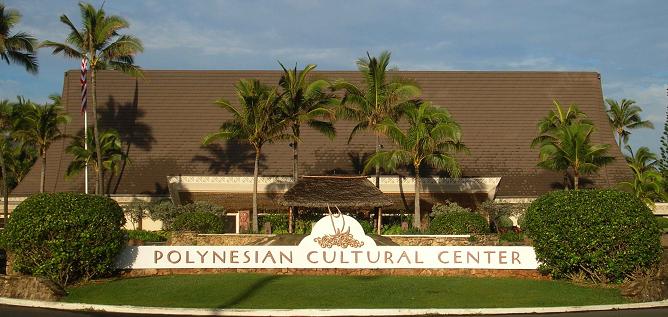 The Polynesian Cultural Center is a 42-acre theme park located in the town of Laie on the northern shore of Oahu. The open-air park is comprised of eight villages which simulate the people and cultures of Polynesia through exhibitions of various arts and crafts, as well as performances and demonstrations showcasing the islanders' way of life.The park first opened its doors to the public in 1963 and has since become one of the most visited tourist attractions in Hawaii.
The Polynesian villages that are simulated at the center include: Hawaii, Samoa, Aotearoa (present-day New Zealand), Fiji, Tahiti, Tonga and the Marquesas Islands. There is also a special exhibit dedicated to Rapa Nui (Easter Island or Isla de Pascua).
Each village offers visitors with unique activities and experiences such as learning the hula, partaking of traditional arts and crafts, getting a Polynesian tattoo (not permanent!), or cruising along the lagoon in a traditional canoe. There is also a nearby Mormon temple which visitors can visit.
The theme park's main attraction is the multicultural Polynesian show titled Hā–Breath of Life held in the evenings at the 2,800-seat Pacific Theater. It features native songs and dances from the various Polynesian vilages, including the Hula, tamure, otea, titi torea, haka, poi, meke, tauolunga, and Taualuga.
Another popular show is the Rainbows of Paradise, a "parade" of canoes bearing performers in vibrant costumes. Held in the lagoon every afternoon, the  show presents the signature dances of each of Polynesian culture.
The park also has its own IMAX theater that can accommodate 600 guests. It features the movie Coral Reef Adventure, shown four times daily on a 65 feet high (19.8m) and 93 feet wide (28.4m) screen.
The center is also known for its traditional luau, or Hawaiian feast, which starts at 5 pm. The luau is a great way to have a taste of native Polynesian dishes such as lomi lomi salmon, kalua pig (roasted in an underground oven), mahi mahi (island fish), haupia (coconut pudding) and poi (a specialty made from taro roots), while enjoying traditional Polynesian music and dance performances.
The Polynesian Cultural Center, which sits in a land owned by the nearby Brigham Young University–Hawaii, was built and owned by the The Church of Jesus Christ of Latter-day Saints. Majority of its employees are students at BYU-Hawaii.
Polynesian Cultural Center - Oahu, Hawaii Photos