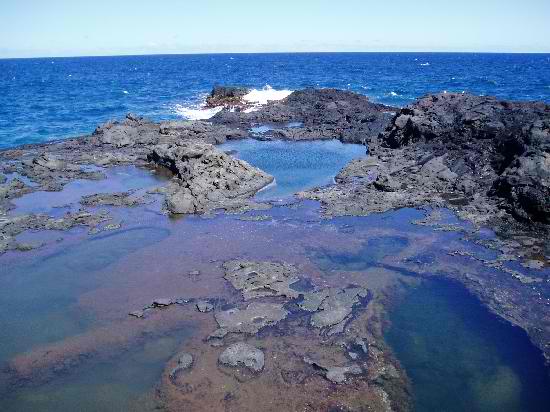 The Olivine Pools are a series of small green-colored tide pools located along the rocky coast of the Western Maui Mountains. The pools get their green coloring from a semi-precious gem called Olivine which lines the rocks in the pools. The tranquil waters of the pools provide swimmers a unique and relaxing experience which the raging ocean nearby could not offer.
The pools are also ideal snorkeling spots when ocean tides carry colorful fish and sea creatures and trap them into the pools. There are no sandy beaches in the area, instead, expect to trek on lots of rough, jagged lava rock. Wear appropriate footwear.
The Olivine Pools are located off of Highway 340 just a few miles north of Kaanapali. Getting to the pools requires hiking down a steep cliff for a couple of miles. The rocks are slippery and sharp, so be mindful.
During high surf, the area can be dangerous so always be alert and practice caution at all times. Do not attempt to go anywhere near the pools when you see waves crashing to avoid injuries or getting carried into the ocean.
If you want to enjoy the pools by yourselves, arrive early as crowds do form around mid-day. There are no facilities.
The pools are located at the 16 mile marker of Kahekili Hwy (Hwy 340).