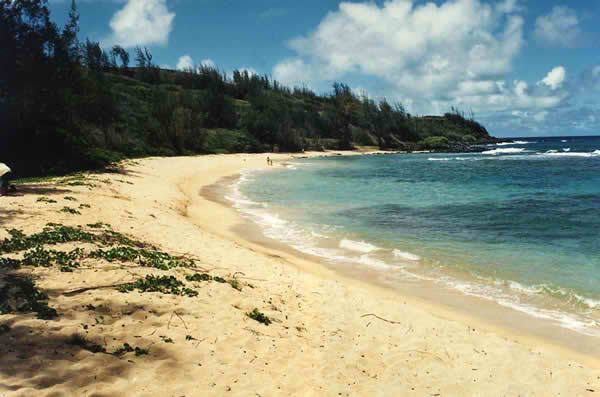 Moloaa Bay Beach (pronounced Molo-ah-ah) is a picturesque crescent-shaped beach with fine golden sand and turquoise waters on the east shore of Kauai, Hawaii. At the back of the beach are hilly dunes and lush vegetation, adding to the serene and relaxing atmosphere. It is also almost always deserted, making it an excellent destination for those who want some peace and quite.
The beach's name means "matted roots" in Hawaiian, in reference to the numerous paper mulberry trees that used to grow in the area. The trees grew in massive clumps causing their roots to get interwoven.
Almost half-mile long bay, Moloaa Bay Beach has spots with golden fine sand as well as areas with black lava rocks. It is ideal for picnics, beach combing and soaking up some sun. When the ocean is calm, swimming is possible and best on the southeast side of the bay. Snorkeling is also possible when water condition permits.
During winter, swimming and other water activities should be avoided altogether for safety reasons. The bay is known for dangerous waves and treacherous currents so always monitor ocean condition before venturing into the water. There are no lifeguards and other facilities in this beach.
Moloaa Bay Beach's claim to fame is it being the location of the pilot episodes of the popular TV series Gilligan's Island in the 1960s.
To get there, drive 7 miles north of Kapa'a on Kuhio Highway (Hwy 56), turn right onto Koolau Road. In 1.2 miles turn right on Moloaa Road and follow as it descends into a residential area and ends near the beach path behind the houses leads to the center of the beach.
Save