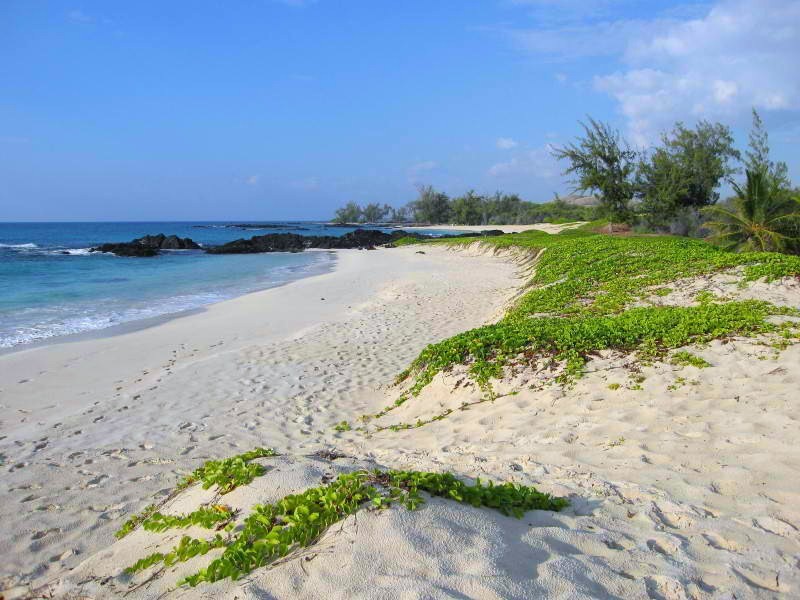 Looking for an "off the beaten path" destination in Hawaii? Big Island's Makalawena Beach might be the place for you! This beach is virtually unknown because of its secluded location. Its remoteness has helped keep the beach in its pristine and untouched condition.
Reaching the beautiful Makalawena Beach is an adventure in itself. There are actually two routes to the beach, both challenging in their own ways. One option is to drive to Kekaha Kai Sate Park, off Route 19, the Queen Ka'ahumanu Highway. Leave your vehicle in the parking lot and from there walk North and approach Makalawena Beach from the South. The trek could take 20-30 minutes so bring only the essentials and wear appropriate attire and comfortable footwear.
The other way is via a rough road off Highway 19, halfway between mile markers 88 and 89. The terrain is very uneven and can only be handled by a 4 wheel drive and a very skilled driver. Keep driving until you reach a rocky beach. At the end of the road is a gate and you'll probably see other vehicles left behind by similarly adventurous folks who opt to take this route to reach Makalawena Beach. Park your vehicle, pass through the gate and start the trek to the beach.
Whatever option you take, the effort is well worth it when you reach Makalawena Beach's torquoise waters, fine white sand dunes, and lots of shade trees. This beach is best for swimming and other water activities like bodyboarding and snorkeling. A little farther inland is a refreshing fresh water pool, perfect for rinsing off the salt and sand before trekking your way back home.
Don't expect to see lifeguards and other beach facilities. This beach is kept clean and beautiful by the few who have experienced its beauty amd left it as they found it. Please do the same when you have the chance to visit Makalawena Beach.
Makalawena Beach Photo Gallery