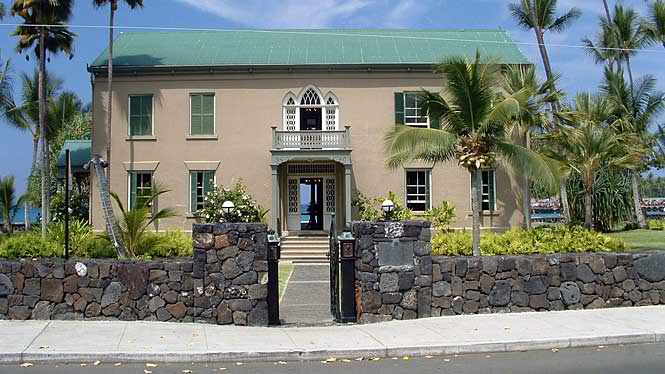 Hulihee Palace is a former vacation home of Hawaiian royalty located in Kailua-Kona (locally referred to as Kona) in the Big Island of Hawaii. It sits on a picturesque spot near the seawall on Alii Drive with expansive lawn and stately palm trees. It now serves as a museum featuring Hawaiian furniture and royal artifacts. The lawn is also a popular venue for social events such as weddings and parties.
The palace is a simple rectangular building with a basement, two stories, and attic. The architectural style is influenced by New England architecture with Victorian decoration on doorways, windows and eaves. The staircase in the central room, as well as the doors, paneling and decorative trim, are all made of koa wood, a native Hawaiian hardwood.
The palace was originally built by Governor John Adams Kuakini in 1838 using lava rocks and was passed on to members of the royal family after his death in 1844. Princess Ruth Keelikolani made the palace her main residence but she had a grass hut erected on the palace grounds where she slept for most of her stay in Hulihee.
The palace became a vacation home for all the Hawaiian monarchs, from Kamehameha III to Liliuokalani, upon the invitation of Ruth. When Ruth died, the palace was left to the care of her cousin Princess Bernice Pauahi Bishop.
The palace was later sold to King Kalakaua and Queen Kapiolani and was renamed Hikulani Hale, which means "House of the Seventh ruler," referring to Kalakaua, the seventh king who ruled after the first Hawaiian monarch, King Kamehameha I.
Hulihee was eventually left to the hands of Prince Jonah Kūhiō Kalaniana'ole Pi'ikoi and Prince David Kawananakoa after the deaths of Kalakaua and Kapiolani.
In 1927 the Daughters of Hawaii, an organization dedicated to preserving the cultural legacy of the Hawaiian Islands, restored Hulihee Palace and turned it into a museum. It was added to the National Register of Historic Places listings on the island of Hawaii in 1973 as site 73000653.
The palace was slightly damaged in the 2006 Hawaii earthquake but repairs and restoration have since been made.
It is open to the public from Monday through Saturday (9am - 4pm) and Sunday (10am - 4pm). Admission is $6 for adults, $4 for seniors and $1 for children. The Hulihee Palace Museum is located at 75-5718 Alii Drive, Kailua-Kona.
Hulihee Palace Hawaii Photos