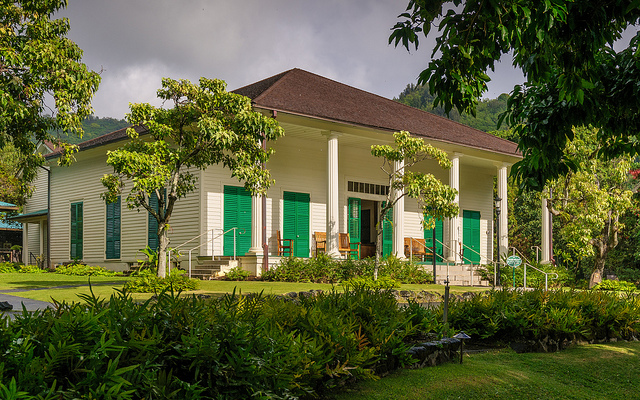 Locally known as Hanaiakamalama, which means "the foster child of the moon" in Hawaiian, Queen Emma's Summer Palace is a popular historic landmark, tourist spot and museum located at 2913 Pali Highway, near downtown Honolulu in Hawaii.
The single story structure, designed in the Greek Revival architectural style, was built in 1848 using pre-fabricated frame from Boston. Located at the upland Nuʻuanu Valley, known for its cool climate, the home served as a retreat for Queen Emma, as well as for her husband King Kamehameha IV, and their son, Prince Albert Edward, from 1857 to 1885. It had six rooms and a porch with Doric columns.
Queen Emma added another room, called the Edinburgh Room, to the rear of the structure in 1869, in preparation for the visit of the Duke of Edinburgh.
After the queen's death in 1885, the Hawaiian Monarchial Government bought the estate and at one point planned to build a baseball park over the site. However, the Daughters of Hawaii purchased the site with the aim of restoring it as a monument to Hawaii's history. The site was placed on the National Register of Historic Places in the 1970s.
Queen Emma's Summer Palace is now a museum displaying personal items of Queen Emma, King Kamehameha IV, Prince Albert Edward, and other members of the Hawaiian royalty.
Apart from the musem, the 2.16-acre (0.87 ha) property also features an extensively landscaped grounds, with many plants native to the Hawaiian Islands.
Queen Emma's Summer Palace is open daily from 9:00 a.m. to 4:00 p.m, except major holidays. Admission fees are charged. Guided tours are available.