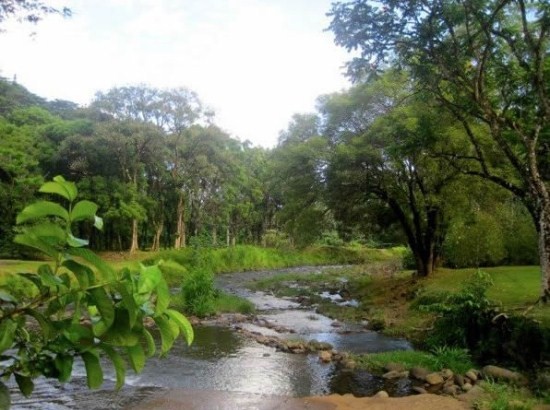 Keahua Arboretum is a peaceful wooded park near Wailua Reservoir in East Kauai, Hawaii. It is home to mango, monkeypod, eucalyptus trees and have become a popular picnic and hiking destination. Numerous picnic tables and pavilions are scattered throughout the area which also includes grassy lawns.
The arboretum also contains several streams and freshwater pools that feed into the Wailua River flow which provide a cool relaxing area to swim and frolic. However, caution is advised when swimming in the pools as the bacteria leptospirosis may be present in the fresh water.
Apart from the trails within the arboretum, other trails, such as the Kuilau Ridge Trail and Powerline Trail, start or pass by here, as well. The park also provides a great vantage point for viewing the towering Mount Waialeale, that is if it is not wearing its customary robe of clouds.
Keahua Arboretum is located along Kuamo'o Road in Wailua, East Kauai, Hawaii. To get there, take Highway 56 north from Lihu'e. After crossing the Wailua River Bridge, turn left on Kuamo'o Road (Highway 580). The Keahua Forestry Arbetorum is approximately 5 miles down the road, past the Wailua Reservoir.
Save