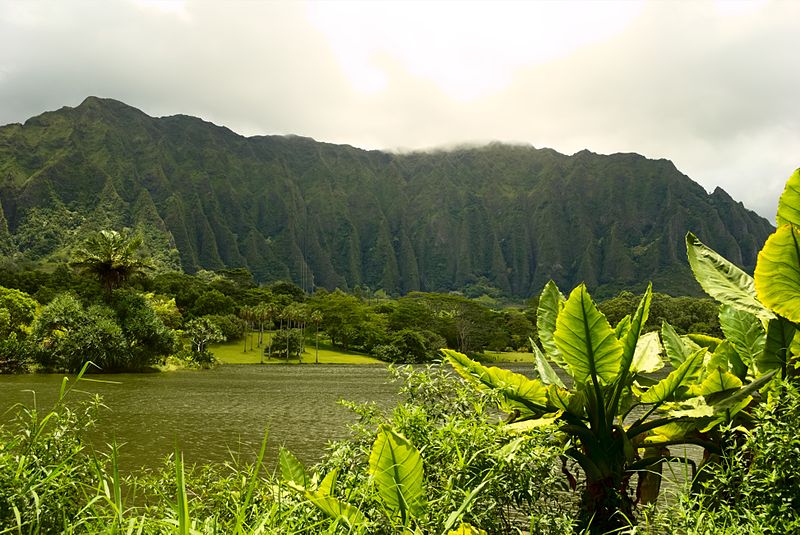 The Hoomaluhia Botanical Garden is an expansive nature park located at 45-680 Luluku Road, Kāne'ohe, Oahu, Hawaii. It was established in 1982, and designed by the United States Army Corps of Engineers for flood protection.
The park was designed to look like a natural rainforest featuring more than 10,000 plant species from major tropical regions around the world such as Africa, Hawaii, India and Sri Lanka, Malaysia, Melanesia, the Philippines, Polynesia, and the tropical America. A network of trails help visitors take a good look and appreciate the rare and endangered plants from the various regions.
The Hoomaluhia Botanical Garden also gives emphasis on how to protect and  conserve the plants native to Hawaii and Polynesia, as well as arecaceae, aroids, and heliconias.
Sitting at the foot of the Koolau mountain range in Kaneohe, the botanical park offers dramatic and breathtaking mountain views aside from the beautiful gardens. One of the park's attraction is the 32-acre lake where fishing is allowed during weekends but swimming is stictly prohibited. There is also a covered pavilion with tables and benches perfect for lunchtime meals, as well as a campground which is open to campers with permits. There is also a visitor center with lecture room, exhibition hall, workshop, and botanical library. There are a few but clean rest rooms.
There are no shops selling food so bring your own meals and drinking water when visiting the park. Duck and fish feeding is one of the more popular activities in the garden especially among the kids so don't forget to take with you lots of bread! Like a true blue nature park, there are a lot of bugs so bring plenty of bug spray!
Hoomaluhia Botanical Garden is open from 9am to 4pm daily, free of charge, except for Christmas and Ne    w Year's Day. It is at the end of Luluku Road in Kaneohe, Oahu, you will not miss it.
Hoomaluhia means "a place of peace and tranquility" and you'd find just that in this beautiful garden.
Photo credit: wikimedia.org/Jacopo Werther