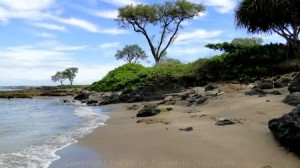 Oneuli Beach is one underused but beautiful beach along Makena Alanui Road in South Maui.  It sits right next to the more popular Makena Beach. Oneuli, which means "dark sands," came from the beach's salt and pepper mixture of black and white sand. The black sand came from the nearby Pu'u Ola'i Cinder Cone's deposits which were washed up on the beach after years of abuse from the ocean waves. The white elements are crushed seashells.
Oneuli beach, especially the north end, is ideal for snorkeling because of its coral-filled bay. It is a favorite hangout of honu (green sea turtles). Manta rays and small sharks also visits its shores occasionally.
This beach in Hawaii is also a good place for kayaking and swimming during calm seas. However, beach has no facilities so don't expect restrooms and lifeguards. Because of its dark color, the sand can get a bit too hot from exposure to the sun so always wear your fli flops or reef shoes.
If the surf is rough, especially during the South or West swells, keep out of the water as the waves can get very high. Also avoid swimming beyond the fringing reef because it is where the currents are at their strongest. To be safe, do not leave valuables in your car or unattended at the beach.
How to get to Oneuli Beach
Along Wailea Alanui Road, you will pass the Maui Prince and the Old Makena Road on the right. The road makes a sharp bend to the east then continues on to Ahihi Kina'u and La Perouse Bay. Just after the bend, but before you get to the main paved parking lot at Makena Beach there is a dirt road turnoff (through a orange unlocked gate). Take the dirt road and follow it back until you reach the ocean, park where you can.
Oneuli Beach Photo Gallery