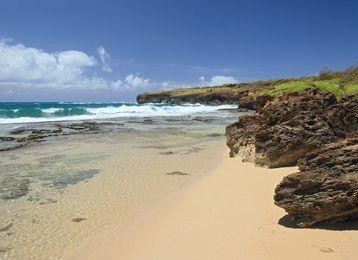 Shipwreck Beach lies on the windy north coast of Lanai, "Hawaii's Most Exclusive Island." The beach owes its name to the wrecked ships and boats found there such as the Liberty freighter from the Second World War which is also the largest wreck on the site.
The Beach is easily accessible following road 440 from Lanai City. Up until 1 mile/1.5km from the coast, the road is made up but along the coast is a sandy track not suitable for vehicles.
An 8-mile (13km) trek along the coast via the Garden of the Gods will lead to the Beach. The sea is shallow but unsafe for swimming. Beachcombers will have a field day collecting brilliant shells and other treasures that wash up on shore. The magnificent views of neighboring Molokai, which rises across the Kalohi Channel is a treat to weary souls. The beach's eight-mile stretch of sand offers a great spot for sunbathing, picnicking, fishing, walking and exploring.