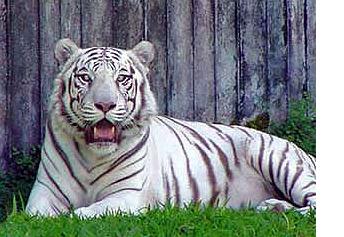 Located in Hilo on the Big Island, Panaewa Zoo is a 12-acre (4.9 ha)) zoo that sits in a rainforest.  It is the only zoo of its kind in the whole United States. It is operated by Hawaii County and receives 100% of its funding from the county and from private donations.
The Zoo is home to more than 80 animal species, including endangered animals like the  Nene (Hawaii State Bird). One of its popular residents is a male white Bengal tiger named Namaste.
Native to India, Bengal tigers are nearing extinction because of over hunting and poaching. Namaste' was born in Las Vegas on September 30, 1998, and arrived in Hilo on April 16, 1999. The Zoo had planned to purchase Namaste' from Dirk Arthur, a magician at the Tropicana Resort & Casino in Las Vegas, but when Arthur saw the Zoo's 1-acre (4,000 m2) tiger enclosure, he donated Namaste to the Zoo.
In addition to the animals on display, the zoo also features more than 40 different species of plants, flowers, and trees.
Admission to the Panaewa Zoo is free. There is also a petting zoo during  Saturdays. After seeing the animals and having a picnic in the grounds, guests can shop for souvenirs at the gift shop.