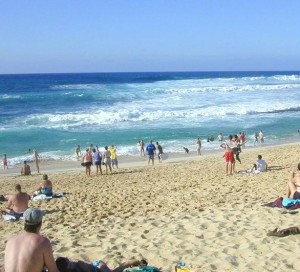 Located on the north shore of Oahu in Hawaii, Sunset Beach is known for big wave surfing during the winter season. Its original Hawaiian name is Paumalū.
Sunset Beach is home to the Duke Kahanamoku Classic surfing competition, the O'Neill World Cup of Surfing competition, and is occasionally the site of the Quiksilver Big Wave Invitational.
This beach is not recommended for novice surfers. Like other beaches on Oahu's North Shore, Sunset Beach is dangerous because of the extensive coral formations near the surface that could cause serious injuries. Conditions for swimming change depending on the particular location and season. Generally speaking, the water is flat as a lake in the summers and has waves in the winters. All the surfing contests take place in the winter around December and January, that being the time of the biggest and best waves for surfing. Swimming conditions change from spot to spot along the beach. There is always a place to swim somewhere unless there is a storm condition happening at the moment.