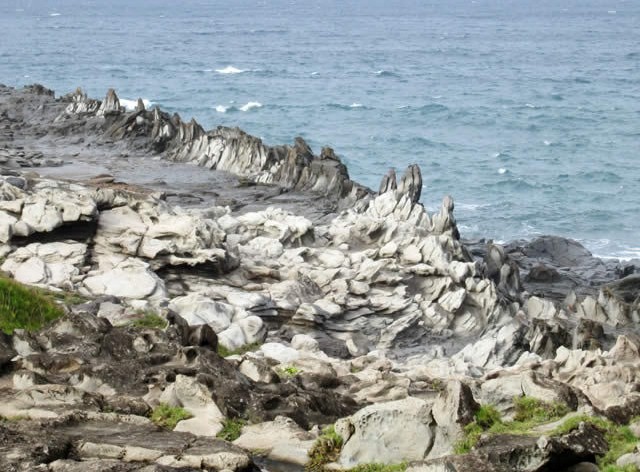 Dragon's Teeth is a unique lava rock formation located at Makaluapuna Point in Kapalua on Maui's northwestern shore. It was formed hundred of years ago as a result of one of the last lava flows on the island.
The unsual formation was created when lava from the West Maui Volcano poured into the ocean and was pushed back by the fierce wind and waves of the northen swell causing the lava to harden in an upward fashion. The resulting formation resembles great jagged teeth, hence the name.
The location of the Dragon's Teeth also provides great views of the blue ocean and Honokahua Bay. It is also a good spot to watch sea turtles or honu.
Apart from the Dragon's Teeth, the Makaluapuna Point is also home to an ancient Hawaiian burial site called Honokahua. The site was discovered during the construction of the Ritz-Carlton Kapalua Resort in the mid-80s. It is estimated that over a thousand iwi (human remains) are buried on the site, some dating to A.D. 610. As a result, the resort was built further inland so that the sacred site would not be disturbed. The burial site is marked by a plaque discouraging visitors from making a ruckus and walking over the sacred ground.
To reach Dragon's Teeth from Kaanapali, take highway 30 (Honoapiilani Highway) north to Kapalua, and turn left on Office Road just past Mile Marker #30. Parking is located on the right where the Office Road meets Lower Honoapiilani Road. Walk about five minutes along the northern edge of the golf course to get to the teeth.