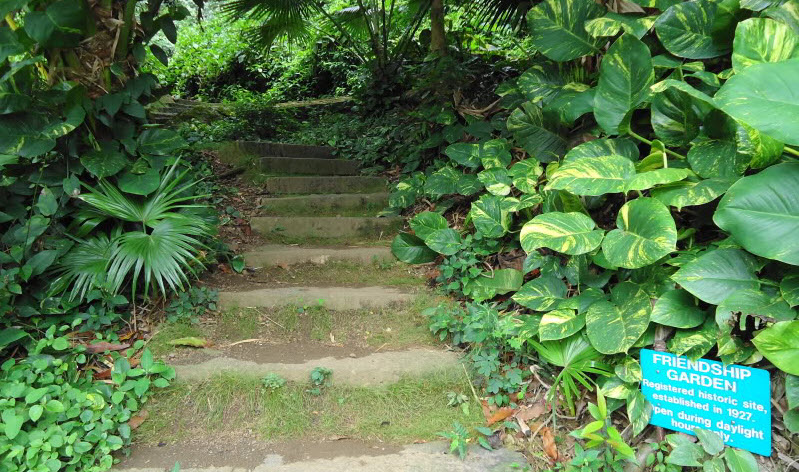 Friendship Garden is a ten-acre public park located on a hillside of Kaneohe in Oahu, Hawaii. It is known for its non-strenuous hiking trails that are ideal for family and small group hikes. The trails take visitors through lush forests of tropical vegetation such as macadamia, banyan, mahogany, strawberry guava and eucalyptus trees, in a natural setting.
The trees in the garden were planted in the 1920s as part of what eventually became Hawaii's first multi-racial community, Kokokahi ("of one blood"), where people of all ethnic backgrounds came together to live, work and play.
The trails in the park comprise two loops,  a lower and upper loop, both of which are unpaved, and features landscapes that looked "un-manicured" but were in fact well thought out. Groves of different plant varieties are placed in distinct areas.
Adding points of interest in the gardens are several structures including a tea house, stone lanterns, pavilion, lava stone platform steps and a replica of a large ornamental stone basin donated by a Japanese university.
At the top of the hill is a lookout, offering spectacular views of Kane'ohe Bay. The panoramic view is another of the park's claim to fame.
The garden is open to the public free of charge during daylight hours only. There are no restrooms or other facilities here.
Friendship Garden is located on Kokokahi Place in Kaneohe. The turn for Kokokahi Place is off of Kaneohe Bay Drive between the Bay View Golf Course and the H-3.  Kokokahi Place is across from the YWCA and you will turn toward the mountains.  Follow this road to the top and you'll see the lava stone sign on the side of the road.
Save