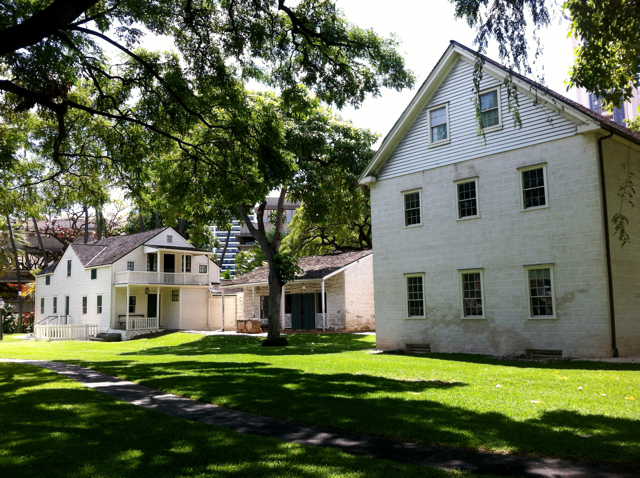 The Mission Houses Museum is a collection of three well-preserved western style buildings located in a property along 553 South King Street in Honolulu, Hawaii. Believed to be the oldest western style buildings in Hawaii, they now serve as a museum showcasing the islands' "missionary" period from about 1820 to 1863.
The buildings were built by a missionary named Levi Chamberlain for himself and his family of eight when they came to Honolulu from Vermont in 1820s. The first structure that was built in the property was the Mission House in 1821. Also referred to as the Frame House, the Mission House was pre-fabricated in Boston, shipped to Hawaii and assemble on its current spot. The house was designed for the climate of New England and features small windows and short eaves.
The Chamberlain House, also called Ka Hale Kamalani, was built in 1831 from locally-sourced materials including coral blocks from offshore reefs and lumber salvaged from ships. The two-story structure was designed Levi Chamberlain himself as a residence and storage area for supplies. The building features more and larger windows, an attic, and a cellar. It now serves as the main exhibition hall for the Museum.
The third building, built in 1841, is the Print House. It was made from coral blocks and features architecture that is more appropriateto the climate. This is where books in the Hawaiian language, used by missionaries as a written language, were first printed. Today, the Print House displays a replica of the printing press where the first ever Hawaiian publications were printed as well as other artifacts.
In 1962, the Mission Houses, along with the nearby Kawaiaha'o Church, were declared as U.S. National Historic Landmark (NHL) under the combined name Kawaiahao Church and Mission Houses. In 1966, all structures were included in the National Register of Historic Places.
The Mission Houses Museum is open Tuesday through Saturday from 10:00 a.m. to 4:00 p.m. The general admission charge is $10, with discounts for students, seniors, and the military.
Save