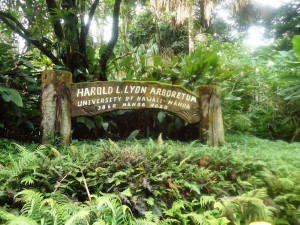 The Lyon Arboretum, formally known as the Harold L. Lyon Arboretum, is a 200-acre arboretum and botanical garden located at the upper end of Mānoa Valley in Honolulu, Hawaii. It is managed by the University of Hawaii at Mānoa and serves as a a mecca for both scientists and people desiring to study plant life in the tropics.
The arboretum was named after acclaimed botanist Harold L. Lyon who planted nearly 2,000 species of trees on the site. The botanical garden boasts of an artificial lowland tropical rainforest with numerous trails decorated by statuary and water features.
Lyon Arboretum contains approximately 7,500 types of living plants from the Pacific Basin and Asia, including 200 that are native Hawaiian (one of the most extensive collections in the world). Apart from native and exotic flora, the site is also home to more than 600 palm species, believed to be the largest number of palms growing in any garden in the world.
The arboretum has a public program to disseminate information on how to grow some of these plants, in conjunction with the distribution of selected species to interested individuals. Your sense of smell will draw you to Spice Hill and the Herb Garden containing many live specimens of culinary spices and herbs.
The tranquil atmosphere and verdant greenery attract more than 25 species of birds - making for a successful birdwatching trip while connecting with nature.
Lyon Arboretum is located at 3860 Manoa Road, Honolulu (at the upper end of Manoa Valley). It is open 9:00 a.m. to 4:00 p.m. Monday to Friday. Closed Saturdays, Sundays and public holidays.