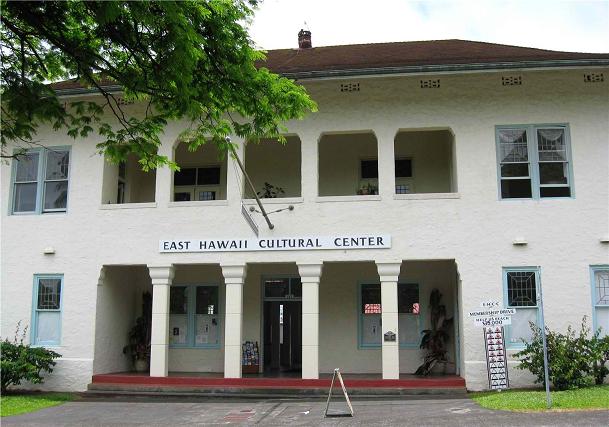 The East Hawaii Cultural Center (EHCC) is an art and cultural hub in Hilo, Hawaii. It is housed within the historic former District Courthouse and Police Station facing Kalakaua Park.
The two-story stucture was built in 1932 using reinforced concrete while the interiors have wooden elements. In February 1969 the court was transferred to a new state office building while the police department moved to a larger building in 1975, leaving the building vacant.
The building was already planned for demolition when the East Hawaii Cultural Council, an umbrella group of local arts organizations established in 1967, leased and and used it as a venue to showcase local talent and present Hawaiian culture at its finest. It was listed on the National and State Registers of Historic Places in 1979.
Today, many cultural festivals, performances, exhibits, shows and workshops take place at the East Hawaii Cultural Center. The ground floor features three galleries dedicated to modern exhibits by both local and international artists. On the second floor is a small theater where performances are held. A gift shop, located in the main gallery, sells local art and other souvenir items.
The East Hawaii Cultural Center is located at 141 Kalakaua St., Hilo, in the Big Island, Hawaii. It is open Monday through Saturday, from 10am to 4pm. Admission is free, but donations are welcome.
Save