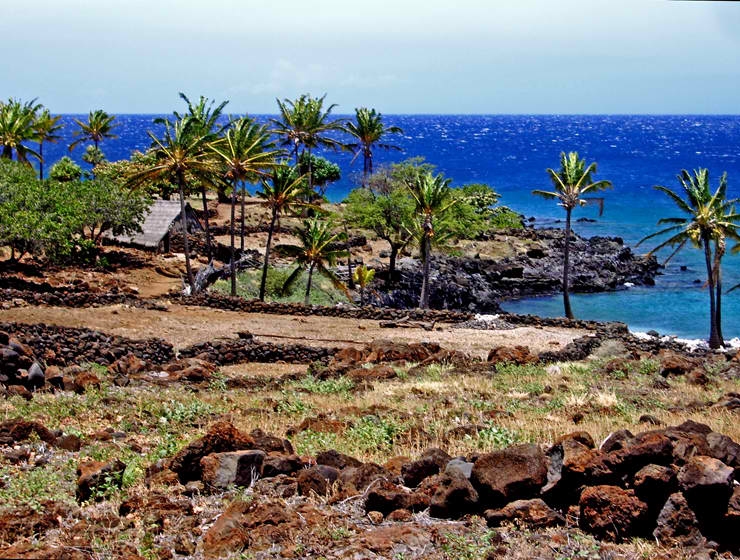 The Lapakahi State Historical Park in the North Kohala District of the Big Island of Hawaii is a partially restored fishing settlement that dates back over 600 years. The rugged coastal park provides visitors with a glimpse of how ancient Hawaiians lived in the past.
The name Lapa kahi means "single ridge" and refers to the ancient ahupua'a (land subdivision) that ran from the sea up to Kohala Mountain built several hundreds of years ago.
The 262-acre park features a reconstructed Hawaiian fishing village, complete with hale (native houses), canoe sheds, a fish shrine, a salt-making area and Hawaiian games. It is  listed as a state archaeological site and was added to the National Register of Historic Places on July 2, 1973.
Facing the park is the Lapakahi Marine Life Conservation District, a marine preserve with limited water activities and fishing (swimming, swim gear, and sunscreen are not allowed in the water). It is strictly prohibited to remove any rocks, plants, or marine life from this area. Whale watching is a popular activity from October thru April.
Park facilities include restrooms and visitor kiosk with interactive displays. Bring your own drinking water.
Lapakahi State Historical Park is located at Akoni Pule Highway (Highway 270), 12.4 miles north of Kawaihae. The Park is located on the left at Mile Marker #14. It is open daily, from 8 a.m.-4 p.m. (closed during State Holidays). Admission is free.
Save