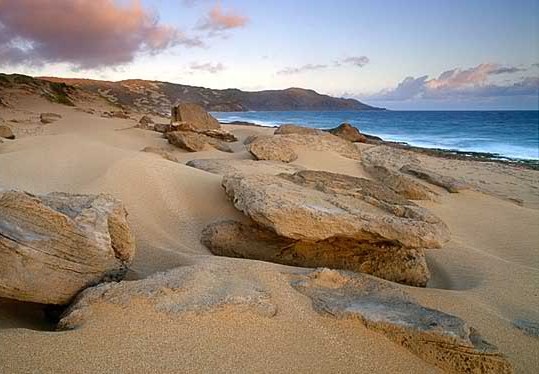 Mo'omomi Beach is a small pocket of white sand located within the 921-acre Mo'omomi Preserve in northwest Molokai. Having been declared a nature preserve since 1988, it is dubbed as the most intact beach and sand dune area in the main Hawaiian Islands.
The area used to be a popular fishing spot where ancient Hawaiians stay in these parts during the summer in order to fish and prepare food for the rough winter months on the north shore of Molokai.
The most popular attraction in Mo'omomi is a vast expanse of sand dunes which are up to a mile long and hundreds of feet wide. These sand dunes were formed over hundred of years when the northeast trade winds carry sand from the Mo'omomi shoreline and surrounding beaches inland, expanding the sand dunes even further.
The area where the dunes are located is called Desert Strip or Keonelele, which means the wind-blown sands in the Hawaiian language. Within the dunes are a wide variety of rare native grasses and shrubs not to be found in other coastal regions of Hawaii. Over 22 native Hawaiian plant species, four of which are globally rare or endangered, are protected in this nature preserve. Visitors are prohibited from entering the sand dunes area to prevent destruction of the fragile environment.
Apart from plants, the nature preserve also protects the habitat of rare Hawaiian monk seal, green sea turtles and seabirds like the Laysan albatross. The area used to be home to at least 30 bird species but about one-third of which have since became extinct.
Mo'omomi Beach has shallow and calm waters during summer but the rocky bottom makes it a less than ideal spot for swimming. Strong currents and high surf make swimming even more dangerous during winter months.
The Nature Conservancy of Hawaii manages the preserve and conduct monthly informational hiking tours into the area. Reservations are required.
The beach is only accessible via a 4-wheel drive along a  deeply rutted dirt road. There are no facilities.
Being a protected area, visitors are advised not to enter restricted spots and to stay on the trail at all times. Littering, tampering and collecting of any rocks, shells, corals, plants and animals in the area are strictly prohibited.
Save