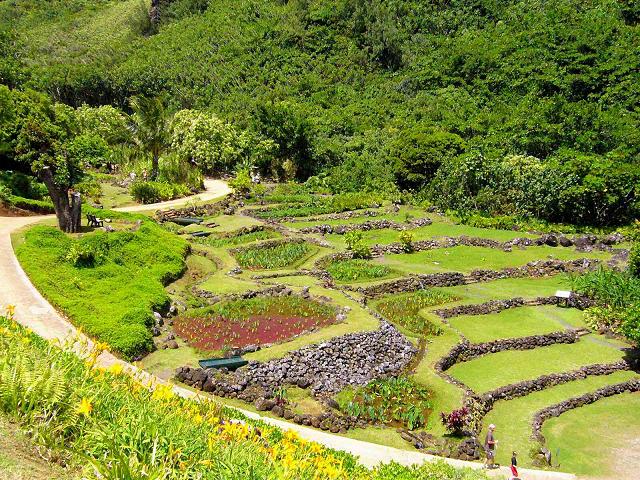 The Limahuli Garden and Preserve is a 1,000-acre a botanical garden and nature preserve on the north shore of Kauai island in Hawaii. It is managed by the  National Tropical Botanical Garden, a non-profit organization aimed at preserving plant species native to the tropics.
Used to be a private property, the sprawling preserve was donated by Juliet Rice Wichman (1901–1987) to the National Tropical Botanical Garden in 1967. It sits within a tropical valley bordered by the Ha'ena State Park, Ke'e beach and Makana Mountain. The preserve is off limits to the public.  Only the 17-acre garden is open to visitors for a fee.
One of the popular attractions in the garden is the taro paddies, an ancient terrace system made from lava rocks where taro plants were cultivated. The system provides visitors a glimpse of how the taro, a traditional food source, is cultivated by early Hawaiians. The name Limahuli, which means turning hands, is said to be derived from the process which ancient Hawaiians used to carefully fit lava stones together to create the terraces for the cultivation of Taro.
The Limahuli Stream also cuts through the garden as it snakes its way to the sea. It flows from the top of the valley at 3,300 feet above sea level then plummets over a 1,000 foot waterfall before coursing through the valley floor and merging with the ocean. This spot is sometimes referred to as Bali Ha'i, a name used in the 1958 film South Pacific which was filmed on location in the area.
Aside from taro, the garden is lush with other beautiful tropical plants and blooms which make strolling along its numerous paths an enjoyable and relaxing activity.
The garden is open Tuesday-Friday, and Sundays from 9:30am until 4:00pm. Guided and self-guided tours are available.  It is located along the North Shore of Kauai, past mile marker 9 on Highway 560.
Limahuli Garden and Preserve Kauai Photos