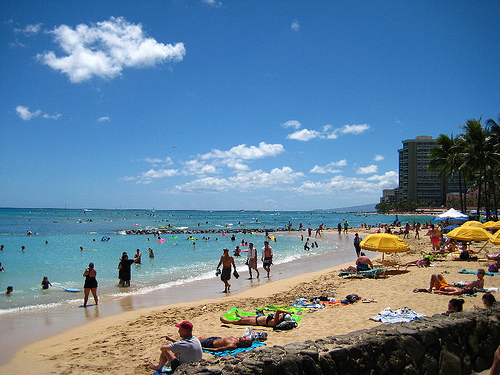 Kuhio Beach Park, lso known as Waikiki Beach, Queen's Beach and Gray's Beach, is a popular beach in Waikiki, Honolulu, Hawaii. It is named in honor of  Jonah Kuhio Kalaniana'ole, more ppularly known as Prince Kuhio, one of the most loved Hawaiian monarchs. The prince served 10 consecutive term as a congressional delegate for Hawaii after the islands were annexed to the United States.
The beach park used to be the site of Prince Kuhio's home, Pualeilani, or "flower from the wreath of heaven," where he lived with his wife Princess Elizabeth Kahanu. On July 22, 1918, he removed the high board fence around his home and opened this section of beach to the public. After his death in 1922, the property was given to the city and was officially dedicated as Kuhio Beach Park in 1940.
Kuhio Beach Park is the site of two famous surf sites in Waikiki, Queen's and Canoes, both located at the west end of the park. Queen's was named for Queen Lili'uokalani, who had a beach home and a pier inshore of the site, and Canoes was named for the outrigger canoes that are still used to surf its waves today. Canoes is known as one of the best beginner surfer's spots in Hawaii.
Other popular landmarks at the Kuhio Beach Park are the Stones of Kapaemahu, the Duke Kahanamoku Statue, and the Prince Kuhio Statue.
The Stones of Kapaemahu are a set of four boulders representing legendary men, namely, Kapaemahu, Kahaloa, Kapuni, and Kinohi, who came to Hawaii from a distant land and became known throughout the islands for their powers of healing and great wisdom.
The Duke Kahanamoku statue was created by sculptor Jan-Michelle Sawyer and installed on August 24, 1990, the 100th anniversary of the Duke's birth. One of the greatest sports heroes in Hawaii, Kahanamoku is recognized internationally as the father of modern surfing.
The statue of Prince Kuhio, created by sculptor Sean Browne, was dedicated on January 12, 2002.
Amenities include landscaped boardwalk, lifeguards, showers, and toilets. This beach park can get very crowded.
Kuhio Beach Park is located at 2461 Kalakaua Ave., Waikiki, Honolulu, Hawaii.