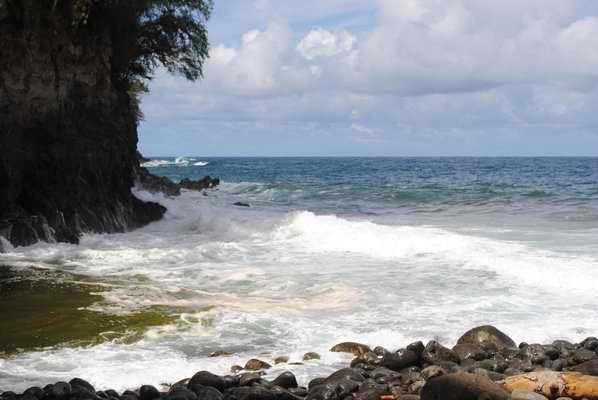 Kolekole Beach Park is a county park on the Big Island of Hawaii. It is located about 10.5 miles (16.9 km) north of Hilo. Popular among locals, this small beautiful beach offers spectacular scenery and an expansive grassy area perfect for picnics and relaxation. It is usually deserted during weekdays but tends to be crowded on weekends and on holidays.
The water condition in Kolekole Beach Park can be a tad too rough and dangerous for swimming. But folks who want to get a refreshing dip will not go home disappointed. Nearby is the Kolekole Stream, which is fed by the spectacular Akaka Falls, which is located in a town about 4 miles (6.4 km) away. This stream serves as a swimming pool to regular beach habitue. Another smaller waterfall flows into Kolekole Stream near the ocean, completing the tropical scenery of this beach park.
The name Kolekole means "raw or scarred" in the Hawaiian language. During rough ocean conditions, surf can get high and often times washes over the beach and into the stream. It is best to avoid swimming at the mouth of the stream due to strong currents in this area.
This rocky beach with black sand sits under a 100 feet (30 m) tall highway bridge. The bridge was once used by the Hawaii Consolidated Railway for transporting sugarcane. During a tsunami in 1946, some parts of the steel bridge were destroyed, which destabilized it and rendered it unsafe for use. The county eventually purchased the bridge and rebuilt it. It now serves as the only major road between Hilo and the Hāmākua district.
Beach facilities include picnic tables and benches and barbeque grills. Camping is allowed with a permit.
Kolekole Beach Park is located at Wailea Rd., Hakalau, Hawaii 96710. From Hilo, it can be reached by driving north on Hawaii Belt Road for about 10.5 miles (16.9 km). A sign marks the turnoff to the park on the right.
Kolekole Beach Park - Big Island, Hawaii Photos