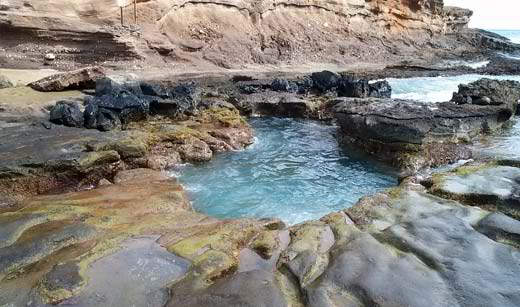 The Toilet Bowl Swimming Hole in Hanauma Bay, Oahu Island, Hawaii, is a natural pool formed by centuries of waves beating against the lava rocks at the bay. Waves force sea water into the pool through a hole in the lava rock. The water is then sucked back out through the same hole, creating the "flushing" action similar to toilet bowls (watch video below).
While the rising and falling water action inside the pool seems inviting, the swimming hole can be very dangerous during high surf. In fact, the site is closed to the public when wave conditions are rough. Do not attempt to go to the pool when "CLOSED" signs are up.
Getting to the site is also not easy. Access to the Toilet Bowl Swimming Hole is only via a trail beginning at Hanauma Bay Beach Park. The trail can be treacherous and is sometimes closed by lifeguards to prevent accidents. Wear appropriate shoes as the trail can get very slippery.
To get there, take Highway 72/Kalanianaole Highway east to Hanauma Bay State Park. Park in the farthest east part of the parking lot and take the trail around the east side of the bay to the Toilet Bowl.
Save