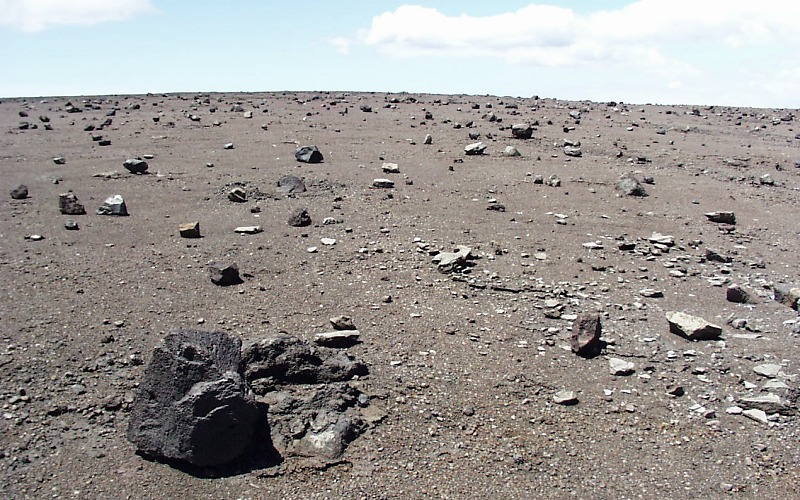 Ka'ū Desert is a vast plain of lava rock and sand in southwest rift zone of the Kilauea volcano. It is located in a remote part of the Hawaii Volcanoes National Park in the southernmost district of the Big Island of Hawaii.
With rainfall exceeding 1,000 millimeters (39 in) per year, Ka'ū Desert is not a true desert. The name was due to the area's sparsely-vegetated appearance which is caused by acid rain formed by the sulfur dioxide gas from Kīlauea as well as extremely permeable lava soil that inhibits the growth of plants. Only hardy plants thrive in the area's harsh condition.
The desert is a popular destination for walking and hiking tours when the park is not closed to the public due to high volcanic activity. Some of the popular attractions in the area are the Great Crack and the Southwest Rift Zone, a major fault zone that looks like a giant groove in the earth. The other-wordly landscape also features intricate lava formations, wind-sculpted sand dunes and striking cinder cones. Trails also leads to Kīlauea.
Also well known in the Ka'ū Desert are two-hundred year old fossilized human footprints in mud-ash. According to an ancient legend, Chief Keōua Kuahu'ula was traveling in the area after a great battle with the dominant chief Kamehameha I when Kīlauea erupted in 1790. It was dubbed as one of most devastating volcanic explosions in Hawaiian history. At least 80 of Kuahu'ula's warriors are said to have suffocated and died when volcanic ash entered their lungs. These warriors  were believe to be the owners of the foot prints preserved in the ash.
Ka'ū Desert can be reached by following Highway 11 counterclockwise from Kona to the volcano. The trailhead is on Crater Rim Drive.
Photo credit: "Kau desert" by S.R. Brantley, SGS
Save