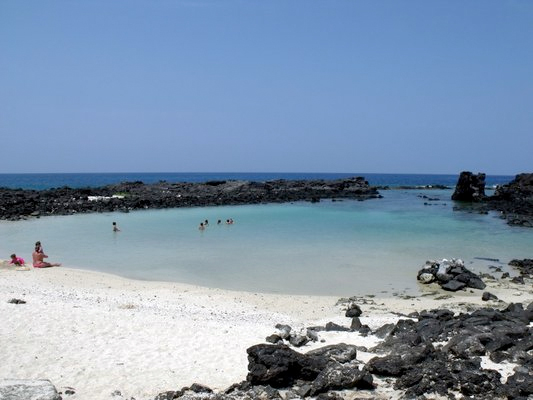 Kikaua Point Beach is a small but very picturesque beach about ten miles north of Kailua-Kona on the Big Island of Hawaii. It features fine white sand and one of the calmest waters this part of the island due to a series of huge lava rocks that protects the beach from the open seas. The massive rock formations sort of encircle the beach and form a pond-like basin.
The calm, crystal clear water and the soft sandy sea bottom makes this beach perfect for families with small children. Because the water here never gets higher than waist-deep on an adult, this beach is preferred by parents who have kids who cannot swim well yet. It is also a favorite romantic spot among couples because of its sheer beauty. In fact, it has become a popular venue for beach weddings.
However, activities in the protected area is pretty much limited to swimming. Snorkeling is not a good idea as there is nothing much to see except for fine white sand under the shallow water. The surf and current beyond the protective rock formations can be a very dangerous so visitors are advised to venture out onto the open seas with caution.
Bordering the beach are lush trees which provides shade and serve as ideal spots for picnics or for simply admiring the spectacular ocean views. There are also grassy spots where young kids can run around while parents can relax and read a book.
Beach facilities include showers, bathrooms, drinking fountains and parking. Only limited parking slots are available, given on a first come first served basis. Come early in the day to secure a slot. This beach is baby stroller accessible. No lifeguards are on duty.
Kikaua Point Beach is located approximately 10 miles north of Kailua-Kona, adjacent the Kukio Golf Resort. Coming from Kailua, turn left at Kukio Nui Road (near mile marker 87 on Route19), enter a gate (tell the guards you are going to the public beach if asked) and drive until you reach the parking lot. A paved trail leads to the beach, about 5-minute walk.
Kikaua Point Beach, Big Island, Hawaii Photos