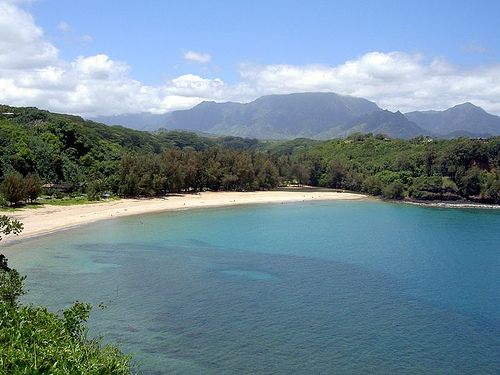 Kalihiwai Beach is little slice of tropical paradise located at the head of the secluded Kalihiwai Bay about 1.5 miles (2.4 km) from the town of Kilauea on Kauai's north shore. The picturesque cove is enclosed by lava cliffs on each side while the back is dominated by lush ironwood trees that provide shade.
The bay provides one of the north shore's most popular surf breaks and is a favorite destination among seasoned surfers especially during the winter months when waves are very steep and break fast. The water conditions during this season are very dangerous due to the pounding shorebreak, powerful backwash and strong rip currents and not advisable for swimming.
The beach can be ideal for beginner surfers during summer months when the water is calmer and great for bodyboarding, beginner surfing and shoreline fishing. Swimming is also possible during this period, even for children, but check water conditions first before venturing into the ocean.
The freshwater Kalihiwai Stream that crosses the beach and flows into the ocean is a safer alternative for those who would like to take a refreshing dip. The stream is also great for paddle boarding and kayaking.
A great beach for sun bathing and having a picnic with lots of shade usually not very crowded. There are no facilities except for a couple of portable toliets. There are no lifeguards on this beach.
The Kalihiwai Beach is accessible via Kalihiwai Road. To get there, turn onto Kalihiwai Road from Kuhio Highway (Hwy 56). It is located just before mile marker 24 (when coming from Kilauea). Follow this road until you reach the beach. Parking is next to the road.