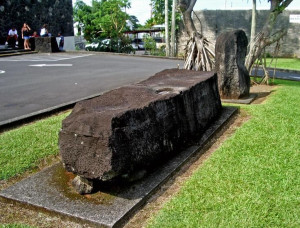 Weighing an estimated 3.5 tons, the Naha Stone is considered by historians as one of the greatest historical relics in the Hawaiian Islands. Originally from Kauai, it now rests in front of the Hilo Public Library at #300 Waianuenue Ave., alongside the much smaller Pinao stone, which used to guard an ancient temple in Heiau.
According to a legend, whoever could move the massive Naha stone with his bare hands would unite all of the Hawaiian islands and be the greatest king of all Hawaii. A fourteen-year-old Kamehameha did more than just move the heavy rectangular lava stone. He lifted it end over end, allegedly with help from the gods, and eventually fulfilled the prophesy.
Today, both locals and tourists flock to Hilo to see the Naha Stone and marvel at its legendary connection with the great Hawaiian king.