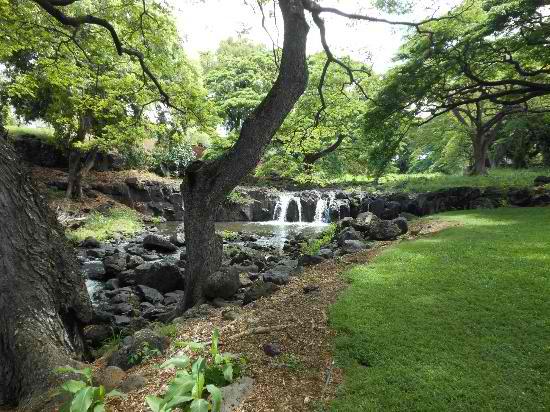 The Foster Botanical Garden started as a private garden created by German physician-botanist, William Hillebrand and his wife Mary, in 1853.  It sits on on royal land leased from Queen Emma.
After the death of Mrs. Hillebrand, the 13.5-acre garden was bequeathed to the City of Honolulu and was opened to the public in 1931. Today, it is a known living museum featuring rare and exotic plants and trees collected over a period of 140 years from around the world's tropics.
The Foster Botanical Garden is home to 26 "Exceptional Trees" protected by state law and includes Specialty Gardens such as the Palm Collection, Orchid Gardens, Prehistoric Glen, and Exceptional Trees. The picturesque garden has become a favorite place for weddings and photo shoots.
There is a gift shop selling a variety of gift items including garden books, watercolor prints of island scenes, umbrellas patterned with banana leaves or orchids, and note cards with botanical themes.  Packaged cuttings of plumeria and other island favorites, are also available. These live plants were inspected and passed by the Department of Agriculture so that they may be shipped or taken as luggage out of the state.
The shop also sells refreshments such as bottled water, soft drinks and packaged snacks for visitors.
The garden is located at 50 North Vineyard Boulevard, Honolulu.  To get there, take H-1 West from downtown Honolulu. Exit at Vineyard Boulevard. Continue on Vineyard Boulevard until you see Foster Botanical Garden on the right. There is plenty of free parking at the entrance.
Regular admission is $5.00, Kamaaina is $3.00. Children 6-12 are $1.00 and 5 and under are free.