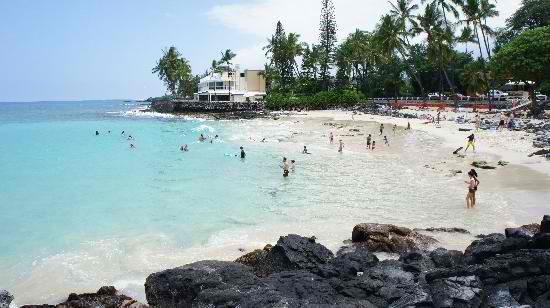 Officially known as the La'aloa Beach County Park, locals prefer to call this small beach in Kailua-Kona, on the Big Island of Hawaii, Magic Sands Beach. The fancy and mysterious-sounding nickname came from the fact that this beach is sometimes covered in sand and at other times devoid of the pristine white fine granules, leaving a rocky shore instead. It is also sometimes referred to as Disappearing Sands Beach and White Sands Beach.
The disappearance of the sand is not due to supernatural causes. The fine granules are just washed out to the sea during heavy swells and storms but will return during calmer water conditions.
During calm weather, Magic Sands Beach is one of the only fine white sandy beaches in the Kailua-Kona area. But even if the sands are not there, this beach remains a good location for swimming or snorkeling. A small rocky cove south of the point is popular for scuba diving in calm conditions.
The beach is also known for the strong surf, making it a favorite destination among body boarding enthusiasts. Caution is advised when taking into the water as the strong surf can be dangerous to inexperienced swimmers and body boarders.
Facilities in this beach include: showers, bathrooms and a volleyball net. Lifeguards are always on duty.
Apart from its monicker as a "disappearing beach," the area also lives up to its reputation as a "sacred place."  In the Hawaiian language, La'aloa means "very sacred" and there are several archaeological sites in the area that attest to this.
One of the ancient historical remnants in the area is the ruins of haukalua Heiau (an Ancient Hawaiian temple) on a point just south of the beach. The stone structure was restored and a small ceremonial platform (lele) was constructed by descendants of the people who lived in this area for hundreds of years.
The Magic Sands Beach is located on Ali'i Drive in the Kona District, about a mile to the north is Holualoa Bay, and a mile to the south is Kahalu'u Bay. Because of its proximity to Ali'i Drive and the nearby Kailua-Kona hotels,  this beach can get a bit crowded especially during summer.
Magic Sands Beach - Kailua Kona, Hawaii Photos