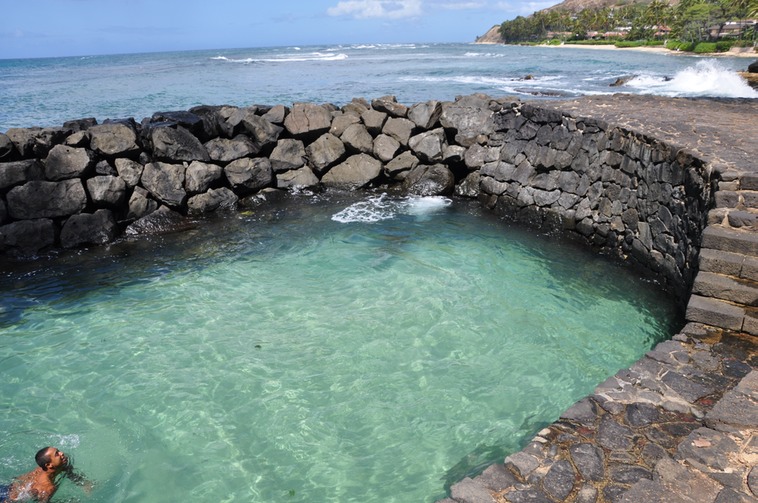 Cromwell's Cove is a popular swimming and diving spot east of Diamond Head Beach in Oahu, Hawaii. It is part of the Kaalawai Beach, known to most a Cromwell Beach, a narrow strip of golden sand fronting the upscale community of Ka'alawai.
The beach offers spectacular views but a shallow reef that extends all the way to the shoreline making for poor swimming conditions. The beach is mainly used by surfers to access popular surf spots beyond the reef.
At the east end of the Kaalawai Beach near Black Point, a black lava rock peninsula, is Cromwell's Cove, a small cove created to accommodate the yacht of Doris Duke and her husband James Cromwell to whom the cove was named. Above the cove sits Shangri-La, a mansion built by Duke which is now a museum of Islamic art and architecture.
The cove is accessible via a lava rock wall wide enough to serve as a pathway. However, the trek to the cove requires physical strength and involves climbing rocks and getting wet. It is not recommended to take the trek when the tide is high or if the surf is rough. Young children and the elderly are discouraged from taking the trek.
Once in the cove, visitors are treated to a pool of protected blue waters with sandy bottom and deep enough for a refreshing swim. Some adventurous tourists use the lava rock wall to jump off to the water but this is discouraged as several people have already suffered injuries from doing such stunts.
To get to Kaalawai Beach and Cromwell's Cove, take Diamond Head Road east and turn right on Kulamanu Street and park curbside. The beach access is at the end of Kulamanu Place.
Save