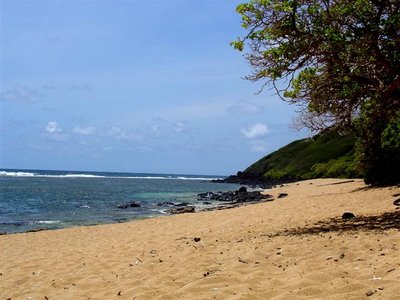 Larsen's Beach, originally known as Ka'aka'aniu Beach, is a secluded and undeveloped beach in the north shore of Kauai, Hawaii. It is named after L. David Larsen, former manager of C Brewer's Kilauea Sugar Company.
The beach features a two-mile long but narrow strip of sand which is ideal for strolling and sunbathing. Behind the beach are lush trees and vegetation. While inviting, the waters of Larsen's Beach is less than ideal for swimming. The nearshore ocean bottom is rocky and too shallow for a dip.
A wide fringing reef offers fair snorkeling opportunies but only during calm ocean conditions and not anywhere near the Pakala Channel, an opening in the reef near the lava rock formation known as Pakala Point. The rip current at the Pakala Channel is very strong and can be very dangerous. Numerous drownings have been reported here.
There is also no lifeguards in this beach so always stay in a safe distance from the shore if you decide to venture into the water. Sea urchins and sharp corals may be present in the water so always take caution.
A recent land dispute now prevents visitors from using an easy, gently sloping trail to the beach. The only route now is a much longer and challenging trail with steeper slopes and rocky terrain which can be very slippery when wet.
Because of its remoteness, the beach is almost always deserted except during low tide when locals come to collect limu kohu, an edible seaweed considered to be some of the finest in all of Hawaii.
While not an official clothing-optional beach, you may see some nudists soaking up some sun in this beach. The isolation, especially at the western end, affords them to lay or walk around in the buff to get an even tan.
Larsen's Beach is located off Koolau Road. From Kuhio Highway (Hwy 56), turn onto the north end of Koolau Rd (near mile marker 20). After about 1.2 miles (1.9 km) turn onto the unpaved beach access road, which goes for about 0.9 miles (1.4 km). From there a trail leads to the beach.
Save