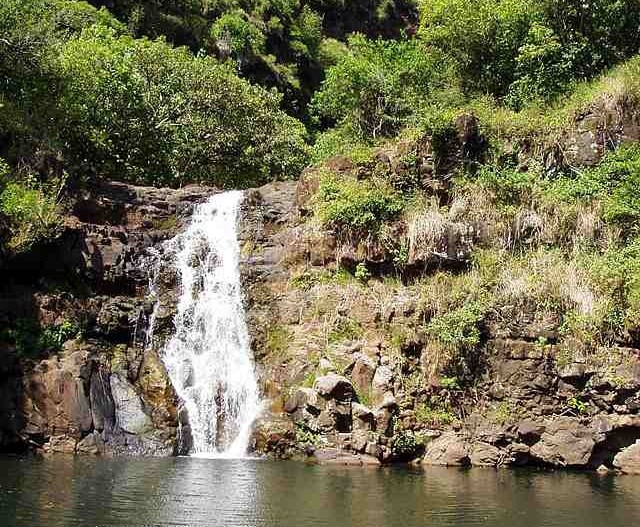 Waimea Valley Adventure Park is a 1,800-acre historical nature park located in the heart of verdant Waimea Valley on the North Shore of Oahu in Hawaii. The park includes 36 botanical gardens featuring native Hawaiian plants as well as rare collections from around the world.  Major collections include the hibiscus evolutionary garden, araceae, bauhinia, bromeliaceae, heliconia, liliaceae, as well as bamboo, begonia, ferns, tropical fruit, etc.
One of the main attractions in the park is the 45-foot high Waimea Falls, which is the setting of a special presentation. Here, divers re-enact Hawaiian warrior games of skill and courage by climbing the slippery waterfall and diving from various ledges into the rocky pool below. Between performances, visitors can take a refreshing dip into the pool or stand under the waterfall.
Apart from cliff diving, other ancient Hawaiian traditions, such as the hula and folk music are also perpetuated in the park via dance performances and music demonstrations. Archeological sites, featuring replicas of traditional Hawaiian games and villages provide visitors with a glimpse of the lifestyle and culture of ancient Hawaiians.
Guided and self-guided walking tours are available as well as other activities such as horseback riding, hiking, kayaking and mountain biking.
Waimea Valley Adventure Park is located at 59-864 Kamehameha Highway, on Oahu's North Shore. From Waikiki take highway H1 west (toward Ewa) to H2. Go north on H2 and get off at Wahiawa exit. Stay on this road, Kamehameha Highway, until you see Waimea Falls Park entrance on the right.
Save