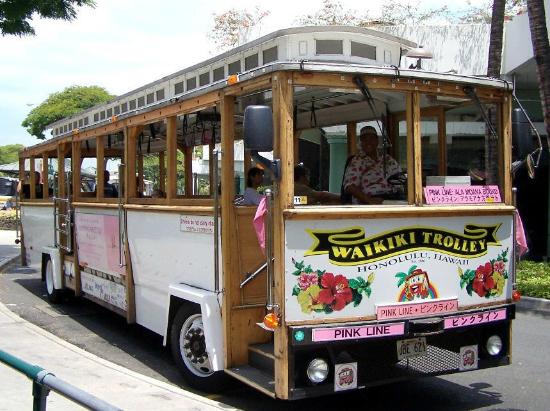 The Waikiki Trolley is a fleet of trolley cars that shuttles visitors and locals throughout Waikiki, Honolulu and East Oahu. The trolleys operate in four lines, each providing passengers exceptional views and exciting ways to experience the different areas' historical and cultural attractions as well as popular dining and shopping destinations.
In 1986, only two trolley cars started routing Oahu streets. Today, there is a fleet of over 50 trolleys, mostly classic street reproductions of San Francisco cable cars with authentic brass and wood trimmings.
The Waikiki Trolley currently operates in four routes, namely, Red Line, Green Line, Blue Line and Pink Line.
The Red Line, called Historic Honolulu Sightseeing Tour, takes passengers to cultural and historic landmarks in Honolulu such as:
Ilikai Hotel & Suites
T Galleria by DFS
Moana Surfrider
Duke Kahanamoku Statue
Aston Waikiki Beach Hotel
Honolulu Museum of Art
State Capitol/Iolani Palace
Aloha Tower Marketplace
Chinatown
King Kamehameha Statue
Ward Warehouse
Ward Centre
Ala Moana Center (ocean side)
The Green Line, or Scenic Diamond Head Sightseeing Tour, offers spectacular scenic spots including Pacific Ocean and Diamond Head. Stops include:
Honolulu Zoo/Kapiolani Park
Waikiki Aquarium
Diamond Head Surf Lookout
Kahala Mall
Diamond Head Crater (inside)
Diamond Head Lookout (outside)
Farmers' Market (Saturdays only)
Diamond Head Market & Grill
King Kalakaua Plaza
The Blue Line, dubbed as the Panoramic Coastline Tour, takes passengers to popular tourist spots such as:
Hilton Hawaiian Village
Hanauma Bay
Halona Blow Hole/"From Here to Eternity" Lookout
Sandy Beach
Sea Life Park
Hawaii Kai Lookout
Kahala Mall
The Pink Line, or the Waikiki/Ala Moana Center Shopping Shuttle, takes passengers to Hawaii's popular hotels and largest shopping center. Stops include:
Aston Waikiki Beach Hotel
Hilton Waikiki Beach Hotel
Ohana Waikiki West Hotel
Courtyard by Marriott
King Kalakaua Plaza (Olohana Street)
Saratoga Road (Waikiki Post Office)
Hilton Hawaiian Village
Aqua Palms Waikiki
Ala Moana Center – Nordstrom
Ala Moana Center (ocean side)
Ilikai Hotel & Suites
Hilton Hawaiian Village
Saratoga Road (Trump Hotel)
Hard Rock Café
Multi-day trolley passes allow unlimited boarding privileges on all four lines for either four days or seven days. Single-day passes also allow unlimited boarding on all four lines. Separate prices are charged for adults, seniors, Kama'aina (local residents) and children. Services like these making getting around in an unfamliar area much easier than driving around in a car or motorhome. If you are travelling around the area in a camper, be sure to check out One Sure Insurance for information on the benefits of ensuring a camper!
Boarding passes can be purchased at most hotel concierge or activity desks on Oahu. They can also be purchased at dedicated Waikiki Trolley booths in the T Galleria by DFS and at the Royal Hawaiian Center.
Save