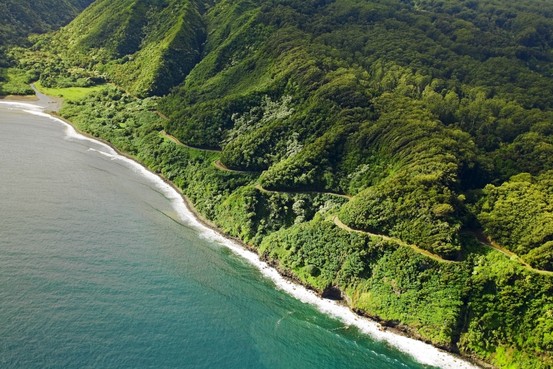 The Road to Hana is a stretch of highway that runs from Pa'ia to the remote town of Hana in Maui, Hawaii. It is a famous (or infamous depending on how winding and narrow cliff-side roads make you feel) attraction that showcases the island's "untouched" naturescape of lush forests, magnificent waterfalls and spectacular ocean views.
Cruising this 64-mile highway from end to end takes about two and a half hours, crossing over 50 bridges and negotiating 620 curves, with numerous points of interest along the way that deserve stopovers. It's a very popular tourist attraction and it's on the to-do-list for many people when visiting Hawaii. If you are visiting with the intention of cruising on this highway you have a few options with regards to vehicles. There are a number of car hire companies in Hawaii from which you could hire a car from to take on this trip. However, I know some people would feel like they are cheating on their car if they didn't take it with them to experience this awesome highway. For those people, a company like https://www.carsrelo.com/ can ship your car over for you so that you can take it for the drive of its life. This is especially the case if you have just got a new car, as I would definitely say this would be a great place for the first drive of a new car. A popular choice for many looking for a new car is to lease a one. It wouldn't be hard to find an online provider.
To make sure that your road trip along Hana Highway is enjoyable, here are what you should bring and some pointers to consider:
A well-tuned vehicle with tank-full of gas. Nothing ruins a great road trip adventure than a broken or out-of-gas car. Make sure to bring a vehicle that can handle the long drive and is loaded with fuel. This may be a useful source if the family is considering switching the old campervan for something modern and can accommodate the family a lot better on long journeys.
A good driver. Despite its numerous curves, the Road to Hana is a relatively easy drive. A driver who is familiar with the road is a plus so you don't miss out on the great spots. They may also know how to avoid road trip car expenses that could put a dampener on your enjoyment.
Protection from sun and heat. Whether driving a close car or a convertible, slather on some sunscreen and wear sunglasses and hats to protect yourselves from the scorching Hawaiian sun.
Motion sickness medicine. If twisty roads make you feel sick, pop a motion sickness medication before hopping into the car take some with you along with a jug of drinking water. Bring along some barf bags, too, just to be safe.
A great playlist. Beautiful music will compliment your oohs and ahhs as you marvel at the wonderful sights while on the road.
Comfortable shoes with traction. A pair of flip flops may seem comfortable but you'll need footwear with traction when you stop to check out the "hidden" treasures of Hana Highway which may be on slippery or rocky spots.
Bug repellent. Don't let mosquitoes and other insects annoy or feast on you! Whether in lotion, spray or other forms, make sure you have your defense against creepy-crawlies.
Bathing suit. You'll encounter some gorgeous water falls, springs and beaches along the way and it can be hard to resist the urge to take a dip! Make sure to pack swim suits and a change of clothes. A jacket will also come handy in case the weather suddenly changes which is not uncommon in Hawaii.
Snacks and water. There may be some stores selling food and refreshments along the highway but it is best to take some with you. Remember, you need energy as you explore the sites and water to keep you hydrated.
A good camera. Immortalize your Hana Road adventure by taking as many snap shots as you can! Don't leave the house without checking that batteries are well charged and you have lots of space in your memory card!
People you love. Great experiences are more memorable when shared among family and good friends. Just make sure that the car is not crammed and everyone is comfortable in their seats so you don't get in each other's nerves while cruising the road.
Take your time. Don't make the trip if you are hurrying up to catch a plane or go to your next destination. It will not be enjoyable if you are rushing to get to the other end and back.
Save