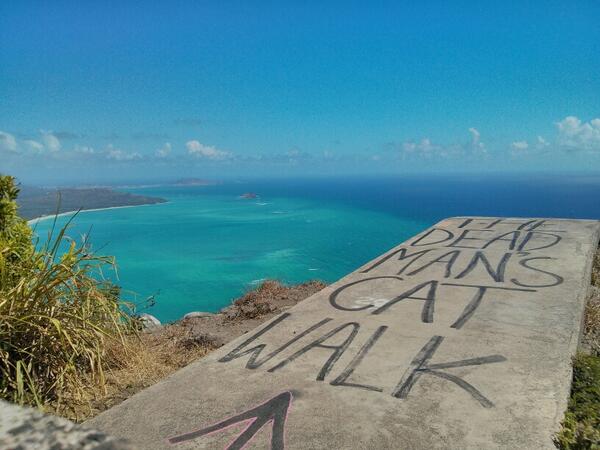 Kamehame Ridge, nicknamed Dead Man's Catwalk by the locals, is a popular hiking spot leading to the summit of the Ko'olau Mountains in Oahu, Hawaii. The highlight of the hike is a concrete slab at the top, akin to a pirate's plank, that protrudes out to the end of the cliff and offers breathtaking views of the sea, the surrounding cliffs and the Rabbit Island offshore.
Despite its grim appellation, the hike to the Dead Man's Catwalk is quite easy, with stunning views of Oahu's windward coast along the way. The best vantage point is on the concrete slab which has also became a favorite spot for souvenir photos among visitors.
Unfortunately, the popularity of the site, which sits on private property, has also led to it's closure. The high foot traffic and massive vandalism in the area has led owners to close down access to the trail. Despite its closure, the Dead Man's Catwalk remains on top of the bucket list among adventurous tourists.
Visit the Dead Man's Catwalk at your own risk. If you do, please be respectful of the property and don't blame us if you get arrested for trespassing.
Photo credit: twitter.com/DNAmlin
Save