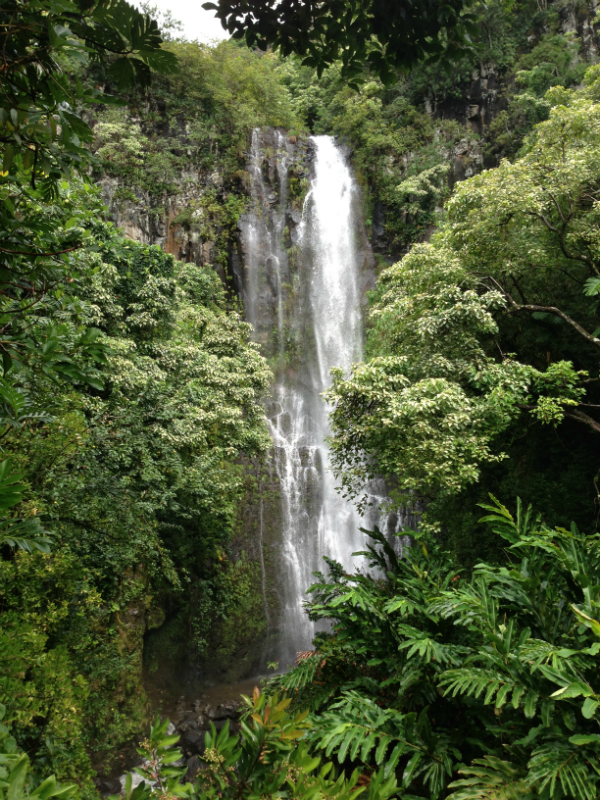 While not as grand as the 400-foot tall Waimoku Falls in Ohe'o Gulch, the horsetail Makahiku Falls also turns heads in Haleakalā National Park on the island of Maui in Hawaii.  At almost 200 feet, Makahiku is one of the breathtaking vistas along the Pipiwai Trail, just above the famed Seven Sacred Pools.
Makahiku Falls is one of the highlights of the trail which include the enormous Banyan tree, lush bamboo forest and the majestic Waimoku Falls. The Makahiku Falls can be viewed from an overlook about half-a-mile along the start of the trail.
There is no swimming in the falls' pool below as the cascading water may have rocks or debris which can be fatal falling from 200 feet. But the pool atop Makahiku is another story. It is accessible via another path that leaves the Pipiwai Trail and leads to the falls' top where an infinity pool of sorts can be found. During calm conditions, or when the stream that feeds the falls is not flooded, the protected pool atop Makahiku offers excellent swimming opportunities. During heavy rains and floods, however, the pool is a dangerous place to be in. There were people who have fallen down to their deaths due to overflowing floodwaters.
The Pipiwai Trail is a 4-mile (round trip) hike that takes about 2 hours to complete, if you resist the temptation to meander around and explore the lush rainforest. The hiking is not too strenuous and is ideal to families with children. Wear appropriate footwear with traction as some parts of the trails are muddy or have slippery rocks.
The trail starts at the carpark near mile marker 42 on the Hana Highway (Road to Hana) after it turns into Highway 31.  It's about 15 minutes past Hana town.
Save