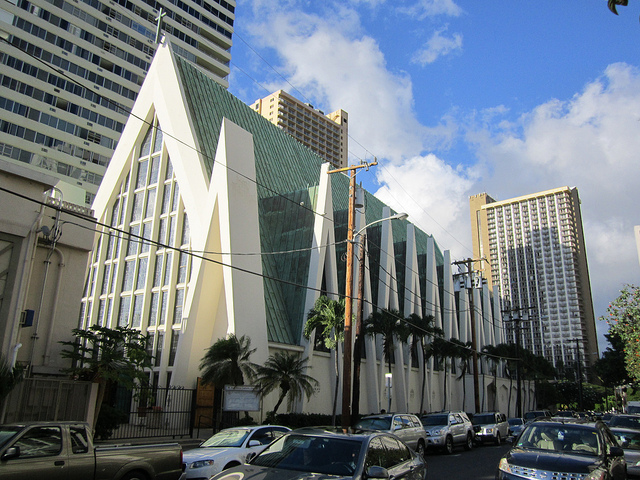 Saint Augustine by the Sea Catholic Church is an important religious and historical landmark in Waikiki, Hawaii. Established in 1854 by some of the original Hawaiian settlers, the original structure was a small chapel measuring about twenty-feet by forty-feet with a steeple.
During the Spanish American War, the chapel was used to celebrate mass for American soldiers encamped near Diamond Head. It underwent expansion to accommodate more soldiers. After the war, the local community continued to use the church and made more improvements. On the feast day of Saint Augustine in 1901, a more permanent structure was built.
As population grew and Waikiki became a popular tourist destination, the church underwent enlargement more expansions. Today, Saint Augustine by the Sea Catholic Church is a hard-to-miss landmark that stands out in the Waikiki skyline. It boasts of an imposing neo-Gothic architecture that is matched by exquisite interiors including full-length stained glass windows and tiered ceiling ornamentation.
At the back of the church is the Father Damien Museum which houses several artifacts and relics of Father Damien, a Dutch missionary who was declared a Catholic saint after serving people with leprosy in the island of Molokai.
Saint Augustine by the Sea Catholic Church is located at 130 Ohua Avenue, adjacent to Kalākaua Avenue, in Waikiki, Honolulu, Hawaii.
Save