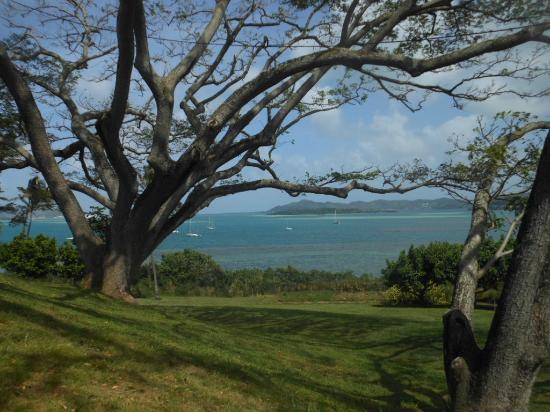 He'eia State Park is an 18.5-acre public park located at Kealohi Point on the windward side of Oahu, Hawaii. Its elevated location, a peninsular called Ka Lae O KeAlohi, gives the park picturesque views of Kaneohe Bay, He'eia-Kea Harbor and the Ko'olau mountain range.
Kaneohe Bay is home to Hawaii's largest and Oahu's five remaining ancient fishponds. The Heeia Fishpond encompasses more than 88 acres and is enclosed by a 5,000 foot wall. Some scenes from the film Karate Kid 2 were shot here.
Apart from the spectacular views, Heeia State Park is also lush with a wide variety of tropical plants, palm trees, coconuts, breadfruit trees and large monkeypod trees, making it an excellent venue for picnics, hiking, and learning more about nature. Another attraction is the Heeia Stream which flows into Kaneohe Bay.
The park is managed by a non-profit organization called Kama'aina Kids whch offer guided tours and interactive classes on marine science, coastal ecosystems, Hawaiian ethnobotany and canoe building. Park facilities include restrooms, outdoor showers, drinking water, and a pay phone. A large hall is also available for luaus, weddings and other special events.
He'eia State Park is located at 46-465 Kamehameha Highway (Highway 836) at Kealohi Point in Kaneohe Bay. The park is open from 7:30 to 6:30 daily. Admission is free.
Save