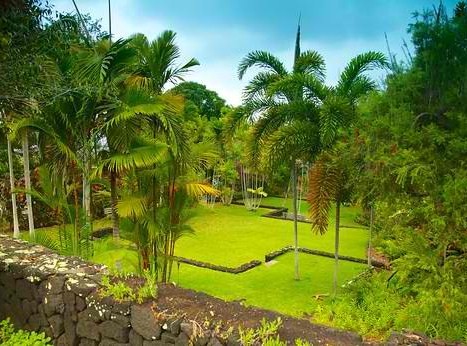 The Sadie Seymour Botanical Gardens is a 1.5-acre botanical park located on the grounds of the Kona Educational Foundation Center at 76-6280 Kuakini Highway, Kailua-Kona, Hawaii. It was established in 1986 by landscape architect Scott Seymour in honor of his mother, Sadie Seymour. Mrs. Seymour founded the Outdoor Circle in 1948 as a not-for-profit organisation which aims to promote and preserve the natural beauty of the Kona community.
The terraced gardens feature a wide collection of native Hawaiian plants as well as specimen from Hawaii, Australia, New Zealand, Africa, Central America and South Asian countries. The gardens are arranged in 11 tiers according to geographic origins.
Apart from its collection of native and non-native plants that inhabit the Hawaiian Islands, the Sadie Seymour Botanical Gardens is also the site of an archaeological site called Kealakowa'a Heiau or "temple on the way for dragging canoes."
This ancient site, which includes a ceremonial platform, an astrological temple, foundations of a priest's house and meeting house, was believed to have been built during the time of King 'Umi a Liloa and was used for construction and blessing of canoes. It is located along an ancient trail called Holua Loa or "long slide" that leads from the upland Koa forests down to Holualoa Bay and used by ancient Hawaiians for canoe building, blessing and launching.
The heiau can be viewed from the Kona Outdoor Circle Educational Center, which contains a horticultural library and educational center.
The Sadie Seymour Botanical Gardens is open daily, from 9am to 4pm. Admission is free but donations are accepted.
Save