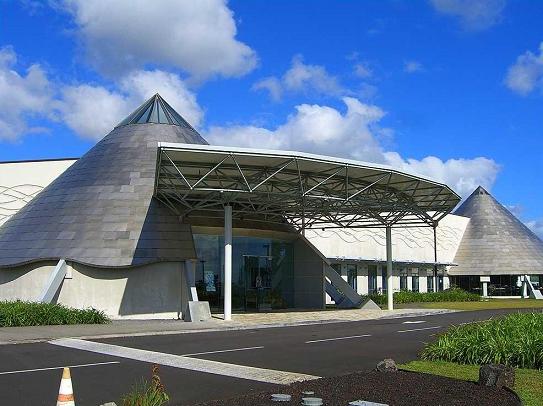 Imiloa Astronomy Center of Hawaii is a museum dedicated to exploring the relationship of astronomy and the Hawaiian culture located on the grounds of the nine acre University of Hawaii at Hilo.
The facility, which opened in 2006, is housed within a modern structure highlighted by 3 titanium cones which represents the biggest mountains of the Big Island: Mauna Kea, Mauna Loa and Hualalai. The name "Imiloa" means to "explore or to seek knowledge or profound truth."
The interactive exhibits try to link the connection between Hawaiian culture and history and the universe. All displays include text written in both Hawaiian and English.
Another popular attraction is the 120-seat planetarium, which features a fulldome video projection system and 5.1 audio surround sound. The planetarium features a variety of presentations including its signature show, "Maunakea: Between Earth and Sky."
There are also smaller halls including one which features a 3D presentation about the "birth of the universe" and another with the Science on a Sphere (SOS) exhibit. SOS is an educational tool to help illustrate Earth system and planetary science to people of all ages. It utilizes advanced media projection technology developed by the National Oceanic and Atmospheric Administration (NOAA).
Outside is an exquisitely landscaped garden featuring endemic and indigenous plants which provides a glimpse into Hawaii's pristine, native ecosystem. Guided garden tours are available, but each plant is labeled in English and Hawaiian for those who want to wander around on their own.
There is a cafe serving light meals and refreshments and a gift shop selling books, gift items, educational toys, and artwork. Two halls are available for special events such as meetings, seminars, and dinners.
Imiloa Astronomy Center of Hawaii is located at 600 Imiloa Place, Hilo and open to the public Tuesday through Sunday from 9:00 am to 4:00 pm. It is closed every Monday and also on Christmas, Thanksgiving, and New Year's Day. It is open on all other holidays. Entry fee is $17.50 for adults and $9.50 for children under 12 years old. Children under 5 are free of charge. Discounts available for Kama'aina, Seniors and Military.