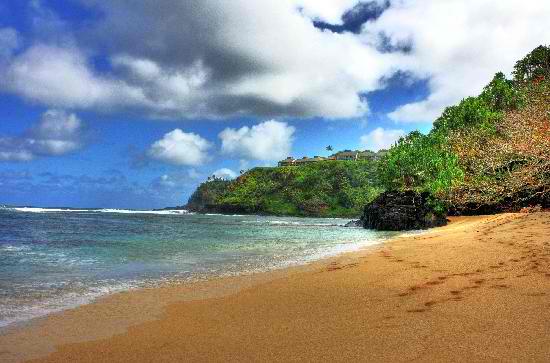 Hideaways Beach, often mistaken for the Pali Ke Kua Beach, is a beautiful secluded beach known for swimming, snorkeling and other water activities during calm weather.
Living to its name, Hideaways Beach is a well-hidden paradise on the north shore of Kauai, near the Pali Ke Kua Condominiums in Princeville. It is not the most accessible beach this part of Kauai as it requires trekking a very steep trail down a cliff to be reached. This is not an advisable destination among families with young children or people with mobility problems.
There are actually two trails that lead to Hideaways Beach. One features a comfortable concrete pathway but is exclusively available for guests of the Pali Ke Kua condominiums. The other trail is open to the public but is more difficult to navigate due to the steep terrain. The trail is equipped with a railing, a great help when maneuvering the steep steps. The steps are followed by a dirt path, which can be slippery and dangerous when wet. It takes about 10 minutes to reach the beautiful beach using this path.
Once you reached the beach, the effort is all worth it. The crescent shaped features large, grainy but soft and golden sand sand. There are plenty of tress which provide shade perfect for picnics or just bumming around, enjoying the spectacular views. Sea turtles are common visitors in this beach.
Caution is advised when swimming due to the rocky ocean bottom. The water is teeming with marine life making it an excellent snorkeling site during summer when water is usually calm . When the surf is up during winter, the water can be murky and rip currents can pose danger to swimmers. There are no facilities at the beach.
Hideaways Beach in Kauai, Hawaii Photos
Save