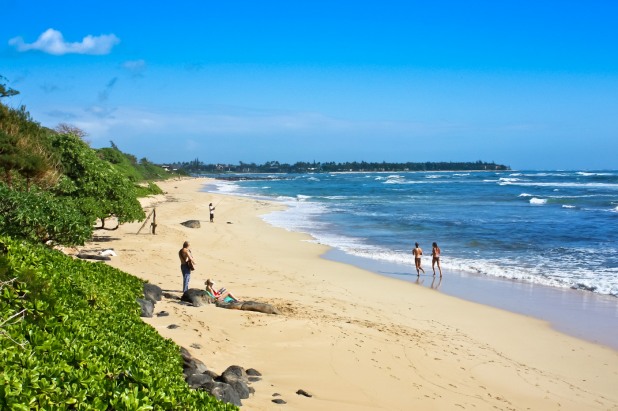 Nukolii Beach Park, also known as Kawailoa Beach or Kauai Beach, is a white sand beach with azure waters in Lihue on the east shore of Kauai, Hawaii. Stretching for two miles, it is the longest beach on the island's eastern coast. It is adjacent to Lydgate Beach Park and fronts the Wailua Golf Course and Hilton Kauai Beach Resort.
The blue waters may be inviting but can be too rough for swimming. An offshore reef provides little protection especially during times of high surf. Plus, the nearshore waters are shallow and somewhat rocky making  swimming difficult. The area fronting the golf course is the best spot for those who insist to take a dip. There are good opportunities for snorkeling, scuba diving and fishing but only when the water is calm.
Beyond the reef is the surf break called Graveyards, which is popular among surfers. Surfing here should be left to the experts. There is no lifeguard in this beach, so novice swimmers and surfers better stay out of the water especially during the winter months when the waves can get dangerous.
This is the beach to visit if you are looking for some peace and quiet. It never gets crowded and rather deserted most of the time. It is ideal for strolls, sunbathing and picnics under the numerous shady spots.
Facilities include restrooms, picnic tables and parking area located near the Kauai Beach Road.
To get there, drive along Hwy. 50 south from Wailua and then turning right on the dirt road located just past Mile Marker 4. Another access is located between the Wailua Golf Course and the Kauai Beach Resort.
Save