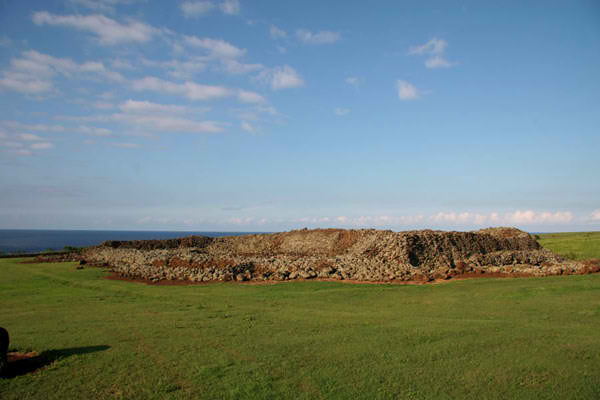 Mo'okini Heiau, or what remains of it, is an ancient temple located in the Kohala Historical Sites State Monument in North Kohala, Hawaii. Believed to have been built by the High Priest Kuamoo Mookini over 1500 years ago, Mo'okini Heiau is considered as one, if not the oldest, temples ever built on the islands. It is also dubbed as one of Hawaiis' most sacred heiaus.
Oral histories suggest that Mookini's original temple had six-foot tall walls built using stones carried hand to hand all the way from Pololu Valley nine miles away. When Tahitians took over the islands in 1,000 A.D., a very powerful priest named Pa'ao built over and expanded the existing heiau. Today, some of the temple's walls stand nearly 30 feet tall.
The Mo'okini Heiau was dedicated to the war god Ku and used exclusively by the Ali'i Nui (the highest royalty) for praying as well as for human sacrifice rituals. Many people were said to have been killed in the name of Ku on a large slab of lava outside the heiau. Many visitors claim that they feel an unusual, even creepy, vibe when they are on the site.
The site is under the care of the descendants of Kuamoo Mookini up to the present. In 1963, the site was declared a National Historic Landmark and added to the National Register of Historic Places in 1966.
Near the heiau is another historical site, Kamehameha Akahi Aina Hanau Heiau, whick marks the birthplace of King Kamehameha the Great.
Mo'okini Heiau can only be reached by 4-wheel drive via a dirt road from Upolu Airport. It is about 1½ miles off the Akoni Pule Highway. Turn North on Upolu Point road near the town of Hawi, and West at the small air strip.
Save