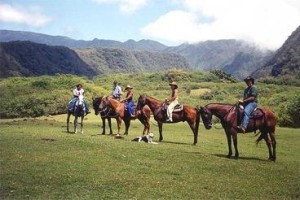 The beautiful vistas of Maui are even more stunning when seen while on horseback. Maui Stables is a horseback tour that will take you on a ride through trails that would blow your mind with beauty.
Riding well-trained horses and assisted by well-versed tour guides, all you have to do is enjoy the ride, the cool breeze and the wonderful views only seen in Hawaii.
Learn while you traverse the trails while your guide gives information on the local lore, plants, and culture of the land.
Because Hawaiian history is consistent with the language, all important events were recorded orally through chants. These chants are used extensively through out the horseback tour. These tours allow oral tradition to continue.