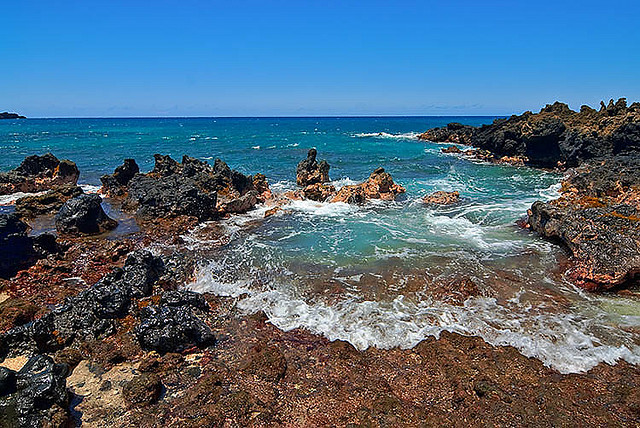 La Perouse Bay is one of Maui's hidden gems for snorkeling. The bay, which was originally named Keone'o'io, is part of the Ahihi-Kina'u Natural Area Preserve located at the very end of Makena Alanui Road in Maui's southern coast.
It was later renamed after the French explorer Captain Jean-François de Galaup, comte de La Pérouse who discovered the area after Haleakala's last eruption in 1788. The volcanic activity made the bay a desolate and eerie landscape covered in rough lava rocks.
Because the beach is mostly covered in rough lava rocks, it is not ideal for picnics, sunbathing or strolling. However, the bay is a prime destination for snorkeling and scuba diving during calm water conditions. It can be a good surf spot as well.
The bay is home to many endemic and other fish species, marine mammals, green sea turtles, and coastal plants. Dolphin sightings are also common in the area. Being a part of a natural reserve, fishing, getting in contact with marine life and collecting any item from the site is strictly prohibited.
Apart from natural attractions, the area is also home to many archaeological sites, including fishing shrines, salt pans, and heiau, or religious platforms. Getting to the La Perouse Bay is easy with a four-wheel drive. Take Makena Alanui Road south out of Wailea, through Makena, and past the Westin Maui Prince.