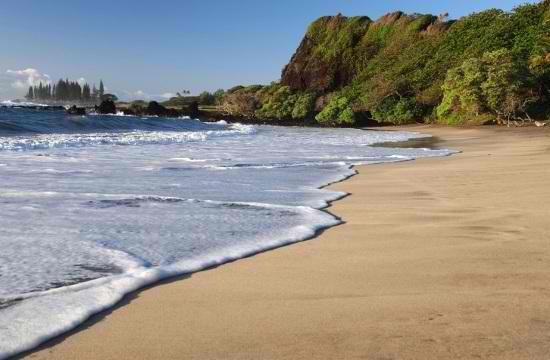 Hamoa Beach is a secluded crescent-shaped beach on the eastern side of Maui, Hawaii. This pocket beach is enclosed by tall cliffs and lush vegetation of coconut palms, hala trees and beautiful flowering bushes.
It features an approximately 1,000-feet long and over 100-feet wide beach with salt and pepper sand. The beach is actually inside a breached volcanic crater and can only be reached by traversing the treacherous "Road to Hana."
While the Hotel Hana Maui has taken responsibility for landscaping the area around the Hamoa Beach and has made it an official beach for its guests, the beach remains open to the public. Some facilities shared with the Hotel Hana Maui include restrooms, shower rooms and picnic tables and benches. There are two sets of stairs on the sides of the cliff to access the beach.
Popular activities in this beach include swimming, body surfing and snorkeling. The beach is not protected by a reef so be cautious when venturing the waters during winter months. The beach also offers an excellent vantage point to view the picturesque small island of Alau, located just off the shore.
Ernest Hemmingway once said that Hamoa Beach was the world's best beaches. It also consistently makes it to top beaches lists including Dr. Beach's "America's Best Beaches of 2012." Dr. Beach, or Dr. Stephen P. Leatherman in real life, is a professor at Florida International University and is considered an authority on when it come to beaches. He releases his list of top beaches around the world annually.
Television personality Oprah Winfrey reportedly owns a property in the area.