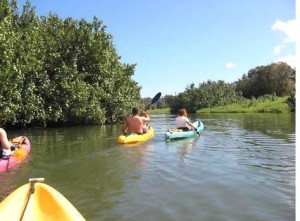 The Hanalei River on the island of Kauai flows north from the eastern slopes Mount Wai'ale'ale for 17 miles (27 km) until entering the Pacific Ocean at Hanalei Bay as an estuary.
Kayaking along its lower, flatter portion is a very rewarding experience for tourists. The two mile upstream paddle to the Hanalei Wildlife Refuge is a safe family adventure. The Hanalei River is generally safe and has slow currents, but make sure not to go too far into the open ocean. If you are going to hire a kayak to go on this river, be sure to check out this article by campingfunzone.com so you know the basics before hitting the water.
There are a lot of guided tour services available in Kauai that can last for three hours and cost around $60 per adult and $45 for children. Highlights of these tours include views of Bali Hai (Makana Peak), and the sweeping "South Pacific" panorama. Guests can also watch birds, turtles, and snorkel with colorful fishes in a protected bay. There is also time to wade and relax by a sandy beach.
Don't forget to bring a hat, bottled water and sunblock lotion.
Hanalei River Photo Gallery