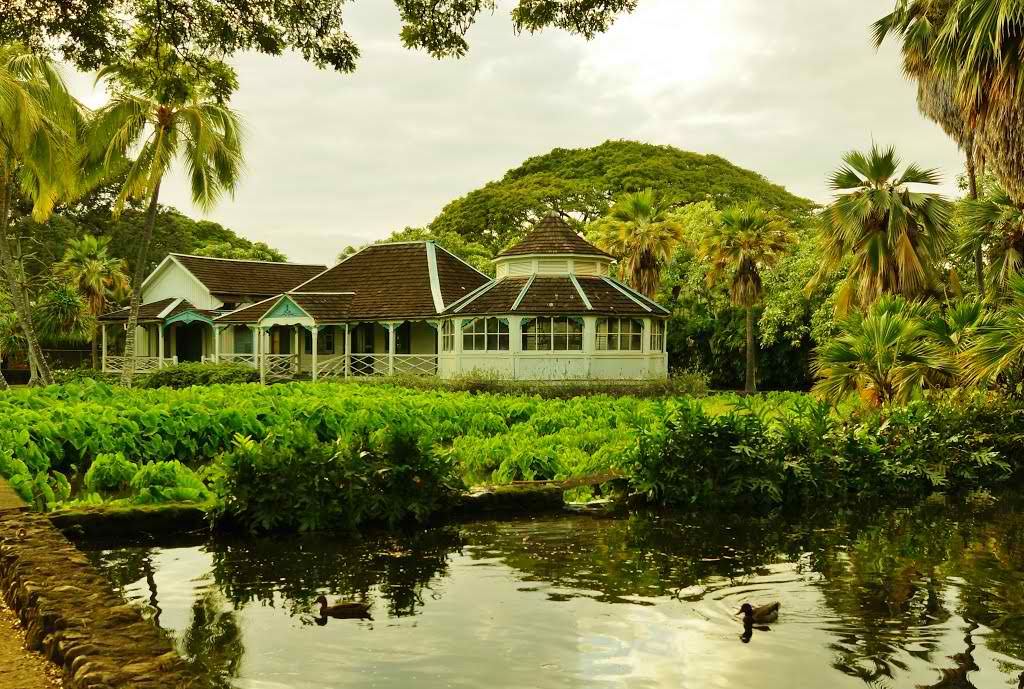 Moanalua Gardens is a privately owned garden located in Honolulu, Hawaii. The 24-acre (97,000 m2) park used to be the estate of  Prince Lot Kapuāiwa, who would later become King Kamehameha V.
The garden, which has become a popular spot for recreation and relaxation among locals and sightseers, features plants native to Hawaii as well as species from other parts of the world.
Located at the western end of the garden is the Kamehameha V Cottage, a single-story, a three-unit structure built by Prince Lot in the 1850s. The wooden cottage, which features Victorian motif, is comprised of a kitchen/dining room unit, a living room/bedroom unit, and an entertainment area connected by a series of roofed porches. The cottage used to be located at three different areas of the park until it was moved to its present location in 1960.
The garden and cottage were once owned by businessman Samuel Mills Damon after inheriting the estate from Princess Bernice Pauahi Bishop. In the 1900s, Damon renovated the cottage and used it as a residence. The property was then passed on to Damon's kin until being sold to Kaimana Ventures. The cottage is currently off-limits to the public.
Another popular attraction at the Moanalua Gardens is a majestic century-old monkeypod tree growing in the middle of the park's sprawling lawn. Also called the Hitachi Tree, it is believed to be more than 130 years old and is one of the several monkeypod trees planted in the garden.
However, it's 25-meter height and distinct umbrella-shaped canopy with a maximum branch width of nearly 40 meters and a trunk girth of about 7 meters makes it exceptional. The tree was declared as an exceptional tree by the City and County of Honolulu and cannot be removed or destroyed without city council approval.
The tree is also used by Japanese electronics manufacturer, Hitachi Ltd., as a corporate symbol since 1973, hence the nickname. The company is said to be paying a handsome annual fee for promotional rights.
The Moanalua Gardens is located at 2850 Moanalua Road, in Honolulu, Hawaii. It is open to the public daily, from 8:00 a.m. - 5:00 p.m. Admission fees apply.
Save